Loft aerials

Brian Butterworth published on UK Free TV
One of the most common problems people have with Freeview reception relates to the use of "loft" aerials.

Because the analogue TV transmitter network uses very high power transmissions (the total ERP for the UK is 64 megawatts) many people have installed their TV aerial in places such as lofts, or have used other Indoor Aerials.

The effect on that roof tiles and walls have on analogue TV signals is that the picture will degrade slightly. Making the signal slightly weaker will add a 'snow' element to the picture which is mildly irritating. The picture quality drops, but it is usually possible to make out the picture, as demonstrated here: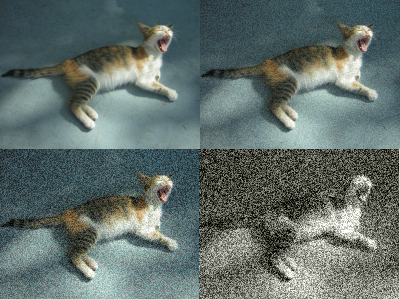 Many people have preferred this slight loss in picture quality for the perceived benefits of a loft-mounted aerial. Loft aerials are much easier and somewhat safer to install, and the aerial is shielded from wind and rain that can cause damage to rooftop aerials. In some places (such as New Towns) TV aerials have been previously banned from rooftops.

However, the BBC and others state that Freeview reception demands a roof-top aerial. The existing (pre Digital Switchover) Freeview signals are at very low power levels. The use by ITV, Channel 4 and five of "64QAM" mode for their transmission multiplexes to provide more channel choice results in a very lower chance of reception of these channels (multiplex 2 is ITV1, ITV2, ITV3, ITV4, CITV, Channel 4, More4, E4, Film4+1; multiplex A carries five, five Life and five US) with a loft-mounted aerial.

By comparison with the image above of how analogue signals look as the signal grow weaker, digital TV reception will continue to give perfect pictures and sound as the power level drops off, until suddenly the level drops below what the COFDM system can cope with. At this point the picture will become blocky and freeze whilst the sound will appear to come and go. Another tiny drop in signal level will result in no picture or sound and a message saying that "no signal is being received". As the signal can vary with weather conditions, people often find that a loft aerial will work when installed and then suddenly stop some months later.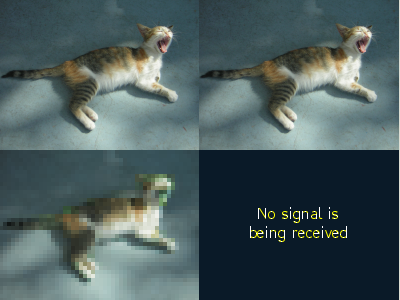 After switchover
After switchover new digital signals will replace the existing analogue and digital ones. The new digital signals will be at much higher levels that the current ones (for most people) and this will
help
with reception. However, all six multiplexes will switch to the
64QAM
mode that causes the problems indicated above.
Due to our Climate Change commitments (Kyoto Protocol), the signal levels for these new digital will not be as high as those currently used for analogue. For this reason you should not depend on the increase in power levels after switchover compensating for having a loft aerial.
Wherever possible you should use a rooftop aerial. If this is impossible, you may find that connecting your aerial to your Freeview box or integrated digital television using
satellite
-grade coaxial
cable
will compensate for the loss.
Comments
Wednesday, 21 September 2011

Evening all, a quick and possibly very naive query. I have a Sony HD TV in the bedroom that we attached to the wall when we moved in five years ago. The power and standard aerial cable are hidden in the wall and go up into the loft, where the aerial is connected to a amplified indoor aerial. The picture has always been fine (not great), until the big switch, as I now get nothing. My problem is, I don't really want to replace the TV or have to pull the cables out of the wall, so what are my options? A new aerial on the roof? (will this let me pick up freeview, or will I also need a box?)A new aerial and a freeview enabled TV? We have Sky downstairs, but as far as I can see, multiroom will mean me running more cables, phone line, HD cable etc. Any advice much appreciated, post code is ST68QL.

Matt T's 1 post

Matt T: I would check TVs and boxes that do not support the 8k-mode | ukfree.tv - independent free digital TV advice first and then see Freeview signals: too much of a good thing is bad for you | ukfree.tv - independent free digital TV advice .

Briantist's 38,844 posts
Tuesday, 27 September 2011

I have a high gain digital aerial on the roof.The coax cable comes directly from the aerial straight into a booster which will allow two tvs. one goes to one freeview box and the other to the 2nd. Everything was great until the changeover day. In the living room I have Film 4, viva, yeaterday, and a couple of other stations missing and the signal goes weak and I lose BBC channels. In the adjoining room where the other tv is I have every station. The only difference is that in the adjoining I have a Humax freeview box where I can pause and record, rewind live tv etc. The other room has a cheap but up to date freeview box, which was purchased aprox a month before chaneover. Can this be the problem ? If so, why was everything fine before changeover day and now its not ? I,m not the only one in this position. Thanks. Mike

Mr M. Lee's 2 posts

Just moved to rented house where there is an indoor loft aerial. The reception on analogue was poor so was wondering if this will be the same when I purchase a new TV with built in Freeview?

Priscille Yeung's 1 post
Thursday, 29 September 2011
I
Ian Davies
12:46 PM
Halesowen

I live at Iverley Road, Halesowen, West Midlands. All the info I can gather states that the signals received here will be in the Vertical Polarity. I'm testing a Triax 52 aerial in the loft and all the signals I can receive are coming from a Horizontal polarity. What would be the compass bearing to the Brierley Hill transmitter? Am I doing something wrong?

Ian Davies's 3 posts

Ian Davies: The predictions seen using your post code indicates reception being possible from Haden Hill (@1ml - 332 degrees) -
Brierley Hill (@ 4mls - 290 degrees) - Halesowen (@1ml - 189 degrees) - Sutton Coldfield (@14mls - 40 degrees) or even to a lesser extent The Wrekin (@26mls - 306 degrees) with only these latter two being horizontal polarity.

Haden Hill and Halesowen being only PSB stations with limited channels.

jb38's 7,179 posts

Priscille Yeung: Yes, that is correct.

Briantist's 38,844 posts

Mr M. Lee: Can you please see the list of things to check on the Freeview signals: too much of a good thing is bad for you | ukfree.tv - independent free digital TV advice page?

Briantist's 38,844 posts
Saturday, 8 October 2011
I
Ian Davies
5:10 AM
Halesowen

Hi. I am setting up a new cabling system.I have an aerial in the loft, very strong signal and quality, with a feed to 3 TV's and a PC. I also have a feed into the loft from Virgin+ box, via a modulator. I use an old sender to change channels. How do I send both signals to all the feeds. What kind of box will do it, or can I use some sort of splitter at some point in the system. I will be moving to Sky in the future and I am aware that each TV will need a magic eye and that this will change channel to all TV's. Many thanks in advance.

Ian

Ian Davies's 3 posts

Ian Davies: I am not quite sure about your meaning of an old sender? nor the method you are using to feed the signal from the aerial / RF modulator used with V box to the TV's in the various rooms, but the main thing is that if you are changing to Sky in the future and intending to use magic eyes in each room, then you will have to ensure that the splitter you use in the loft is of the "DC Pass" type, as if not the magic eye power supplies will be blocked.

Other than this the arrangement you presently use will be about the same, with that is the exception of you not requiring the use of the modulator, the only point being that when a Sky box modulator is being incorporated into a distribution system then the Freeview aerial is usually connected into the Sky boxes normal aerial input socket, then the Sky boxes RF2 output is fed to a DC pass splitter to feed the other TV's.

jb38's 7,179 posts
Select more comments
Your comment please