2011 switch-overs start today at Sandy Heath, Nottingham

Brian Butterworth published on UK Free TV
Hardly a Wednesday from today until Wednesday 23rd November 2011 will not involve a step in the UK digital switchover.

From today. You will need to retune your Freeview box if you use the Sandy Heath or Nottingham transmitter. You MAY find that old equipment will no longer work - TVs and boxes that do not support the 8k-mode.

If you use the Dallington Park, Kimpton or Luton relay transmitters, you will no longer be able to watch BBC TWO on analogue from today, but you should be able now to use a Freeview box to watch ALL BBC services (apart from the two HD channels).

If you use Sandy Heath don't forget that you will need use a wideband aerial after switchover is complete on Wednesday, 13th April 2011 if you want to watch the commercial multiplexes. Sandy Heath is unusual in this respect.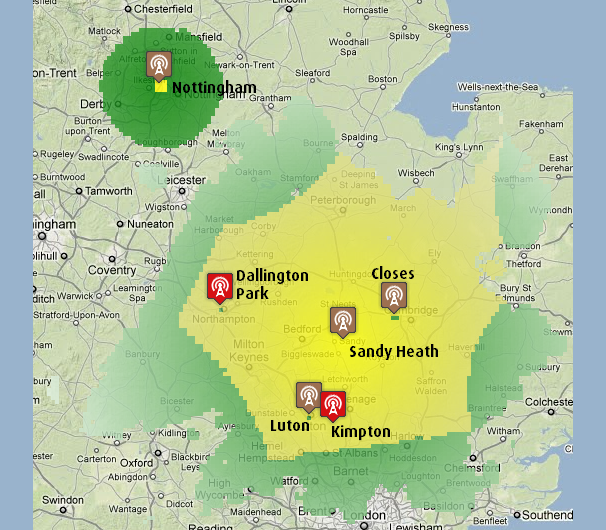 Comments
Wednesday, 30 March 2011

Thanks Briantist

I have worked out that I am receiving the signal from Waltham! gutted that hd is not almost here!

Is this anything i can do to receive the signal from sutton colefield? I believe thats now picking up HD??

lee's 8 posts

lee: You will get the services your aerial provides, it depends on the direction it points and the aerial group.

It is the Lichfield transmitter that has the "preview" Freeview HD service at the moment, and you unlikey to be able to receive that.

If you want Freeview HD, move your aerial to get a signal from the Nottingham transmitter, and wait two weeks.

Briantist's 38,844 posts

i just rang a local guy who fits ariels and said that i wont pick nottingham up. he also said that i wont get hd until next year on nottingham so not sure how much he knows!

lee's 8 posts
M
Mike Dimmick
6:27 PM
Reading

lee: Coverage in Nottingham itself is split between the Nottingham transmitter, which has quite low power levels, and the main transmitters at Sutton Coldfield and Waltham.

At your postcode, you're expected to get best results from Sutton Coldfield. If you want to get BBC and ITV East Midlands news, you should use Waltham.

Waltham switches over in August and Sutton Coldfield in September. In all cases the HD services start on the second switchover day.

Mike Dimmick's 2,486 posts

has BBC2 analogue been shut down now as I have no BBC2?

markie's 1 post

Hiya ive followed all instructions but still dnt have itv1 2 3 4 etc lost pick tv film4 infact most. Please help Ng10 3dj (52.9643,-1.3007)

Tracey Notts's 3 posts

Hi - i have retuned my toshiba tv with an inbuilt tuner but another TV that I use with a samsung box has lost bbc1 and 2- i have done a reset several times but to no avail- any suggestions would be appreciated post code nn14

kevin moriarty's 1 post

lee: According to the Digital UK postcode checker you should be able to receive the Freeview HD service from both Lichfield (the temporary low power transmission for the Birmingham area) and Nottingham/Kimberley following switchover step2 on 13th April 2011. Note that on that date analogue Channel Five will be switched off at Kimberley removing a major source of interference for East Midland viewers to the Lichfield service on C34. It might certainly be worth having a look at reception following 13th April if you are keen to view the HD channels. As Mike says both now and after switchover Sutton Coldfield will offer the strongest signal with Waltham a suitable alternative for East Mids news.

KMJ,Derby's 1,811 posts

markie: BBC2 analogue has been switched off permanantly at Nottingham/Kimberley, Sandy Heath and relays at Dallington Park, Luton and Kimpton.You will need to buy a freeview box if you don't already have one and wish to watch BBC2 via an aerial.

KMJ,Derby's 1,811 posts

Some people including myself recieving lower than normal power now on the BBC channels, from Sandy Heath. tv is showing 80% on BBC other channels showing 90-92% will this rectify itself in 2 weeks time?

Lee's 3 posts
Select more comments
Your comment please