2011 switch-overs start today at Sandy Heath, Nottingham

Brian Butterworth published on UK Free TV
Hardly a Wednesday from today until Wednesday 23rd November 2011 will not involve a step in the UK digital switchover.

From today. You will need to retune your Freeview box if you use the Sandy Heath or Nottingham transmitter. You MAY find that old equipment will no longer work - TVs and boxes that do not support the 8k-mode.

If you use the Dallington Park, Kimpton or Luton relay transmitters, you will no longer be able to watch BBC TWO on analogue from today, but you should be able now to use a Freeview box to watch ALL BBC services (apart from the two HD channels).

If you use Sandy Heath don't forget that you will need use a wideband aerial after switchover is complete on Wednesday, 13th April 2011 if you want to watch the commercial multiplexes. Sandy Heath is unusual in this respect.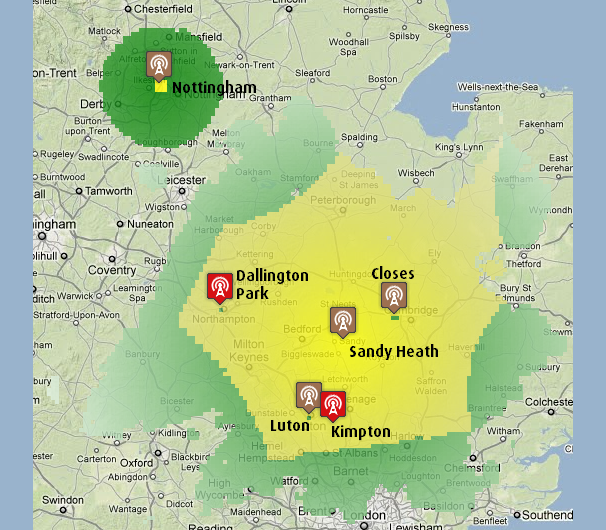 Comments
Thursday, 31 March 2011
M
Mike Dimmick
2:44 PM
Reading

R. Graham: These channels are all carried on Multiplex A. The frequency for this multiplex has changed at the Waltham transmitter, which is the most common transmitter used in Leicester. You will need to retune the box to get these channels back.

If a retune doesn't help, please see the Single Frequency Interference page.

Another retune will be needed in two weeks, on the 13th of April, as Multiplex 2 is moving to a different frequency. These moves are to avoid problems when The Wrekin transmitter switches over, starting next Wednesday.

Mike Dimmick's 2,486 posts

Mike I also have the same problem on my sons freeview tv upstairs? (52.9643,-1.3007)

Tracey Notts's 3 posts
Friday, 1 April 2011

Mike:
check for an indication of the radio channel or frequency that is being used. It should be C27, 522 MHz for the BBC channels.

Hi Mike, just checked and it had picked up bbc channels on ch 67,no other info im afriad as i started another retune before I wrote it down! retune done all back to normal with bbc on ch 67. tv is a small 10onch one with inbuilt aerial!



Lee's 3 posts
Monday, 4 April 2011

Are there any dates available for future retunes from Sandy Heath? as I understand it we are due one in Sept 2011 and two in 2012. I guess this is due to Sutton Coldfield and the London transmitters coming on stream?

Roy's 1 post

Roy: There are five retune dates. (1) 13th April 2011 for switchover step2....(2)31st August 2011 for MuxA change to temporary frequency C31....(3) 14th September 2011 for Mux ArqB change to C48 at high power and MuxC goes to C67 temporarily....(4) 23rd November 2011 for MuxC/ArqA changes to 8k mode at high power on C52....(5) In 2012 (date tba) MuxA/SDN changes to 8k mode at high power on C51.

KMJ,Derby's 1,811 posts
Wednesday, 13 April 2011

at 12-15 am on the 13th april 2011 I lost all itv channels. Then at 12-35am I lost all bbc channels. Do I need a new ariel?

michael's 1 post

michael: No, you need to wait until 6am.

Briantist's 38,844 posts
C
Colin McLeod
5:28 PM
Cambridge

I live in post code CB24 5JD which has always had poor TV and mobile signal
Despite assurances that the 13th april changeover will cure pixelations and low signal today still happening and my digital recorder has moved from 82% siganl strength pre upgrade to an amazing 85% today.
So what happened to the promised boost in signal ????
Only alternative is Sky and I do not wish to improve the profits of Mr Murdoch !!!!

Colin McLeod's 9 posts
P
peter tamper
11:22 PM
Cambridge

Im same as you colin. I not get the channels any more but I sure as damn will not give a penny to the Murdoch. So I not have TV any more. I rather this than give this greedy vampire any more money. I respect your decision 100 percent.

peter tamper's 1 post
Select more comments
Your comment please