2011 switch-overs start today at Sandy Heath, Nottingham

Brian Butterworth published on UK Free TV
Hardly a Wednesday from today until Wednesday 23rd November 2011 will not involve a step in the UK digital switchover.

From today. You will need to retune your Freeview box if you use the Sandy Heath or Nottingham transmitter. You MAY find that old equipment will no longer work - TVs and boxes that do not support the 8k-mode.

If you use the Dallington Park, Kimpton or Luton relay transmitters, you will no longer be able to watch BBC TWO on analogue from today, but you should be able now to use a Freeview box to watch ALL BBC services (apart from the two HD channels).

If you use Sandy Heath don't forget that you will need use a wideband aerial after switchover is complete on Wednesday, 13th April 2011 if you want to watch the commercial multiplexes. Sandy Heath is unusual in this respect.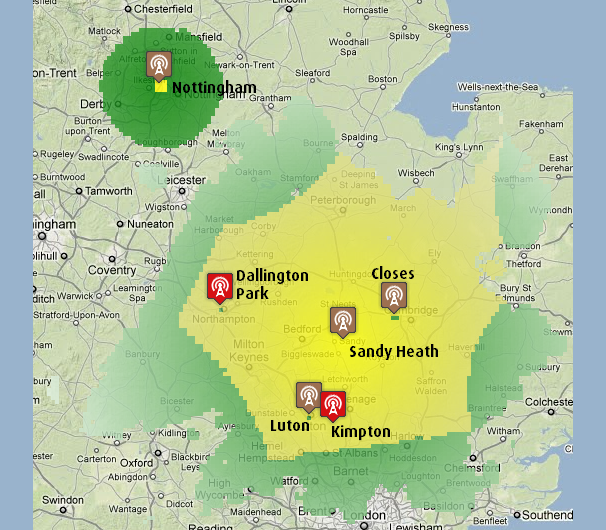 Comments
Thursday, 14 April 2011

Colin McLeod/peter tamper: Freesat is run by the BBC and ITV, it has nothing whatsoever to do with "Mr Murdoch". All about Freesat | ukfree.tv - independent free digital TV advice .

Briantist's 38,844 posts

I just got a shiny Sony Full HD telly (KDL24EX320) but cannot find the HD channels. We are on Sandy Heath, just west of Cambridge so a good signal. No problem finding all others. Manual tune says zero strength on channel 21. Any clues? I think they should be live already.

Ian T's 2 posts
Friday, 15 April 2011

Thanks Brian. Sony have been mis-advertising this model, with no mention of "Ready". I have now confirmed it does not have an HD receiver. Even the Cambridge Sony Store's display label said it had Freeview HD and the staff thought it did, and many online retailers still claim this. Very disappointing as I now have an expensive (but very nice) 1080p TV that shows up SD's flaws all too clearly.

Ian T's 2 posts

Ian T: if you can demonstrate to the shop that they said it did have Freeview HD, you have the right to demand the shop make it do that by providing you with a set top box for free. I would suggest you contact Trading Standards if they quibble.

Briantist's 38,844 posts
C
Colin McLeod
8:39 PM
Cambridge

Brian-you have missed the point I did not mention freesat at all
I have a digital recorder and Freeview TV and as stated their is no noticeable improvement since 13th April upgrade.
So my question remains in that a guy sat on Anglia TV weeks ago smugly stating that ALL Sandy Heath customers would be able to receive a perfect picture NO pixilation or reception problems would exist.
As Peter T says not all of us wish to subscribe to Sky when we were promised an acceptable TV service on Freeview so what happened ???

Colin McLeod's 9 posts
Saturday, 16 April 2011

Colin McLeod: "Only alternative is Sky and I do not wish to improve the profits of Mr Murdoch !!!!".

Briantist's 38,844 posts

Hi, seems there have been alot of problems since the 13th. I have a Grundig freeview box. Did the retune which picked up all channels. No problem, 24 hours later BBC1 has dissappeared from the list/guide. Done the retune every morning since the 13th to reinstate it. It will remain on the list but obviously dissapears over night, Strangely the box was set to record F1 on BBC1 this morning, which it is doing and have played it to see if it is recording and it is but BBC 1 is once again no longer in the channel listing. Seems very strange, any thoughts ?? Thank you

Ben's 1 post
Sunday, 17 April 2011
C
Colin McLeod
4:37 PM
Cambridge

Brian
Is that your answer to merely to repeat text from mine and Peter T posts rather than offer advice on why an alleged improvement to service has done the opposite
Very disappointed

Colin McLeod's 9 posts
Select more comments
Your comment please