2011 switch-overs start today at Sandy Heath, Nottingham

Brian Butterworth published on UK Free TV
Hardly a Wednesday from today until Wednesday 23rd November 2011 will not involve a step in the UK digital switchover.

From today. You will need to retune your Freeview box if you use the Sandy Heath or Nottingham transmitter. You MAY find that old equipment will no longer work - TVs and boxes that do not support the 8k-mode.

If you use the Dallington Park, Kimpton or Luton relay transmitters, you will no longer be able to watch BBC TWO on analogue from today, but you should be able now to use a Freeview box to watch ALL BBC services (apart from the two HD channels).

If you use Sandy Heath don't forget that you will need use a wideband aerial after switchover is complete on Wednesday, 13th April 2011 if you want to watch the commercial multiplexes. Sandy Heath is unusual in this respect.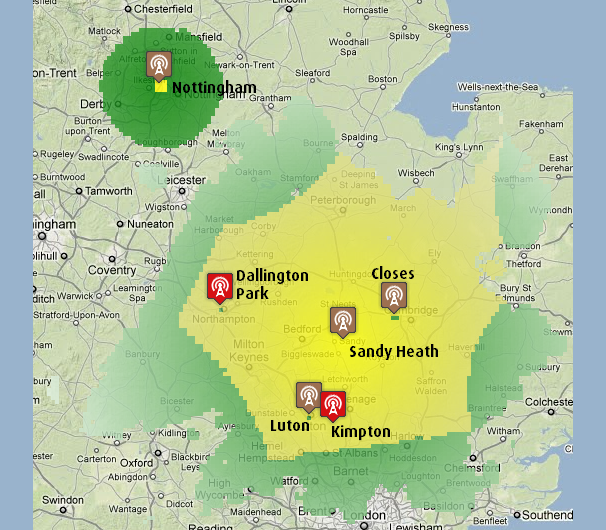 Comments
Sunday, 17 April 2011

Colin McLeod: I believe you may have too much signal. If you have any amplifiers or boosters, try removing them. If not, try adding an attenuator.

A calculation suggests that before switchover you could be getting around 73 dBuV on Mux 1, with a fairly small aerial. The accepted range was 45-60 dBuV (some give 65 dBuV as the upper limit). Analogue signal level would have been 93 dBuV on Channel 4 - accepted range was 60-80 dBuV.

Field Strength Calculator

Post-DSO signal level on BBC B is 85.5 dBuV with the same assumptions. I haven't seen a suggested upper limit for post-DSO transmissions, I would suggest somewhere around 70 dBuV as there will be six high-power DTT muxes rather than four/five analogue channels.

Brian's point was that you don't have to pay Murdoch for satellite TV. You can have free-to-air satellite TV, no subscription, ever, by just buying a Freesat box and having a dish installed. (RG47SH)

Mike Dimmick's 2,486 posts
Monday, 18 April 2011
C
Colin McLeod
6:22 PM
Cambridge

Mike Dimmick

Thanks for advice, i do have an amp fitted so will remove and try that

Had to have it on as stated CB24 is bad for TV and mobile reception

I though Brian was just being sarky but can see his point, read when frustrated after more trouble with tv calm now-well until I try your remedy !!!!!!!!!!!

Colin McLeod's 9 posts
Tuesday, 19 April 2011
C
Colin McLeod
12:40 PM
Cambridge

Mike

Taking your advice I have been in loft this morning and found:
Using SLX DB-T Signal Meter with amp in situ I get 80dbuv and 101 channels with several No Signal on about 6 channels
Without amp straight on co-ax 50dbuv and get 90 channels (no film 4 etc as mentioned)
So by tweaking amp and setting at 60dbuv I can get 104 channels and get Film 4 and other lost channels.
But the disturbing fact is that on checking my digifusion recorder the signal coming off Sandy Heath Channel 27 for cambs & beds has 12-15% errors on it-a brand new channel

So I can rest easy now and Thanks for you help it was beginning to get hot in the loft in this spring sunshine so back to cutting the grass !!!

Colin McLeod's 9 posts

Colin McLeod: You might expect the errors given you are using a loft aerial. Digital reception is predicted around rooftop aerials.

Briantist's 38,844 posts
C
Colin McLeod
8:01 PM
Cambridge

Thanks Brian, now I have the picture OK moving aerial outside seems the logical step, can only improve the situation.
Wheres that Maplin site !!!!!!!!!!

Colin McLeod's 9 posts

Colin McLeod: Please let me know how you get on.

Briantist's 38,844 posts
Friday, 22 April 2011
C
Colin McLeod
12:19 PM
Cambridge

Brian

Have now moved my aerial outside and can confirm no loss of any further channels and as predicted a slightly better picture.
Still a small percentage error but nothing to worry about as have recorded a Channel 5 programme which has always been a weak channel in the past and it was fine

So looking good until next upgrade !!!!!ha ha

Colin McLeod's 9 posts
Saturday, 23 April 2011

Colin McLeod: I'm glad to hear that.

Briantist's 38,844 posts
Wednesday, 14 September 2011

Since the switchover i no longer receive channels such as dave, e4+1, really, pick tv etc..
I have reset my box but no luck. I never had any problems before.
I live in mk41 jus 10 miles from sandy transmitter.
Any help please???
Thanks

Dan's 1 post

Dan: There have been changes again today, please do this - My Freeview box has no EPG, is blank on FIVE, ITV3, ITV4, ITV2+1, has no sound or the channel line up is wrong | ukfree.tv - independent free digital TV advice .

Briantist's 38,844 posts
Select more comments
Your comment please