C61, C62 clearange and the 4G broadband sale

Brian Butterworth published on UK Free TV
One of these ranges, the "800 MHz band" has been reclaimed from analogue television use, and will become available over the next few years.

The original plan envisaged by Ofcom had two blocks of channels, one of C31-C40 and the other of C63-C68, and the digital switchover frequencies have were all planned on this basis.

However, digital switchover in other European countries have left an extended upper band of 72 MHz at 790 to 862 MHz, which has extended the channels here from C61-C69. C69, which was used for programme-making and special events has been allocated C38 from the lower block.

The result is that due to this Ofcom decision, some of the public will now have to another round of switchovers to remove the digital multiplexes that use C61 and C62. Ofcom say

"The DTT clearance programme is in an advanced state of development but we are not yet able to publish a final plan showing when the band will be cleared in specific areas.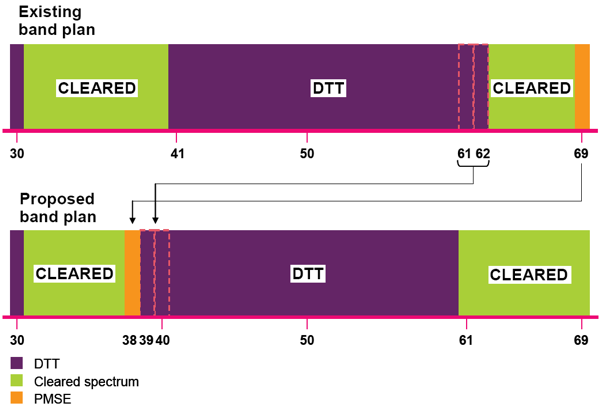 Clearing channels 61 and 62 impacts on the DSO programme and we have proceeded with its implementation by integrating it, where practicable, with DSO. Our target has been to complete the clearance so that the 800 MHz band is available across the UK for new services as early as possible. In our June 2009 statement we suggested clearance by the end of 2013 was an achievable though challenging target. Our current expectation is that all of the UK apart from Scotland will be cleared by that date: Northern Ireland by the end of 2012, Wales by October 2013, England by the end of 2013 and Scotland by October 2014.

We will provide further information as the position becomes clearer. We expect to be able to provide a firmer timetable later in spring 2011. "


Proposed "4G" usage of C61-C69
Cable TV - use of the 800 MHz band
Ofcom testing has shown that most existing
cable
TV equipment should be unaffected by "4G" equipment using the
800MHz
band, as long as it not located within 2 meters of the oldest type of set-top box.
Analogue RF - use of 800MHz band
Anyone using legacy RF equipment, such as
Sky
/Sky+/Sky+HD box "RF out" devices will need to ensure they are not using C61-C68 from 2012 as this will then interfere with 4G devices using the same frequencies.
Lower band - C31 to C40
It is not know what Ofcom now plans for the "lower cleared band", which is now only seven UHF channels, C31 to
C37
. C38 is now used for PMSE, with C38 and
C39
being for the reallocation of C61 and C62 in the upper band.
Due to the need to leave "guard bands" between digital TV and other usages, the small size of the lower cleared band may means that the most practicable use for this it to provide additional
Freeview
capacity on some transmitters.
This may be used to provide an "
upgrade
path" for the commercial multiplexes to the DVB-T2, perhaps using single
frequency
networks, but without specific proposals from Ofcom this is speculative.
Comments
Wednesday, 30 March 2011

As Winter Hill uses Ch 62 I trust this means that the BBC Standard Freeview Multiplex will be on the move at some point. How much money do the government stand to make selling off these frequencies I seem to recall a figure of £22 billion for the mobile auction last time round which almost ruined BT and sent its share price tumbling from 1200 to 200 !! From where it has never recovered.

Pete's 452 posts
Thursday, 31 March 2011

Pete: As it is an auction, it is somewhat impossible to predict beforehand.

Don't worry, the cost will, of course, be passed onto the consumer.

Briantist's 38,844 posts
M
Mike Dimmick
1:08 PM
Reading

Nit: "C38 is now used for PMSE, with C38 and C39 being for the reallocation of C61 and C62 in the upper band" -> "with C39 and C40 being..."

I suspect a lot of people who bought wideband aerials are going to have problems picking up 4G mobile phone signals, which in addition to the TV signals (wanted and unwanted) could overload amps and receivers. Some people already have trouble with 900MHz phones, and others with TETRA at 400MHz. The upper frequency cut-off is relatively sharp on narrow-band Group A and B aerials but widebands often peak around C60 and have better gain up to C68 than on C49 and C50. Group C/D and Group E aerials could also pick up enough mobile phone signal to cause overloading problems.

Channel 5 were made to add filters where they couldn't retune VCRs - I suggest that the 4G operators are made to do the same thing!

As I said on the Interleaved Spectrum page, it's highly unlikely that mobile phone/broadband equipment will be built to operate in the lower cleared band, simply because no-one else is clearing this band. Channel 36 used to be reserved for radar, though I don't know if this is still the case.

Mike Dimmick's 2,486 posts

Strange they didn't also clear channel 30 from DTT and use 37 for PMSE and 38 for DTT
or use 61 for DTT to keep all DTT together.

Mark A.'s 373 posts

Mark A: The clearances were done in a way that allowed all transmitters to keep the three PSB multiplexes "in group" and keep the COM multiplexes "in group" wherever possible.

The alignment of C61-C69 allows 4G equipment to use the same allocation in the whole of the EU, which leads to greater efficiency and lower consumer costs, in the long run.

Briantist's 38,844 posts

Mike Dimmick: "I suspect a lot of people who bought wideband aerials are going to have problems picking up 4G mobile phone signals".

I'm not really sure how this will follow. Exiting WiMax and LTE handsets have, as with all mobile phones, their aerial inside the case.

Briantist's 38,844 posts
M
Mike Dimmick
6:11 PM
Reading

Briantist: I mean that that TV aerials will be picking up the signals transmitted by the phones and the base stations, and that will cause problems for TV reception. Sorry that wasn't clear.

As I say, there are already many people having issues with TV reception caused by mobile phones at 900 MHz and emergency services radio at 400 MHz, so I predict more problems at 800 MHz. Let's not compound the problem with phones at 600 MHz as well.

Mike Dimmick's 2,486 posts

Mike Dimmick: Both LTE and WiMax are designed to have suitable "guard bands" that will protect the adjacent DTT service.

Also, the 4G networks, like the 3G networks will be based on the much smaller cell network of base stations, not the main TV transmitters, so there shouldn't be any problems.

As I think you pointed out elsewhere, C60 is already configured as C60- to ensure protection from future LTE/WiMax services. Whatever they turn out to be.

Briantist's 38,844 posts
Friday, 1 April 2011
J
Jeff Eastmond
4:11 PM
Clevedon

Great... another retune for Mendip, as Ch61 is BBCA and Ch62 is SDN. Will it ever end?

Jeff Eastmond's 36 posts

Jeff Eastmond: At least it is just the one transmitter for the region, it's a total nightmare in Scotland and Wales...

Briantist's 38,844 posts
Select more comments
Your comment please