Tacolneston (East Anglia) transmitter Freeview retune

Brian Butterworth published on UK Free TV
If you live in East Anglia and use Freeview from the Tacolneston transmitter, you will need to perform a retune on Wednesday 17th August 2011.

At around midnight, multiplex B (BBC Four, CBeebies, BBC Parliament, 303, BBC Radio 1, BBC 1Xtra, BBC Radio 2, BBC Radio 3, BBC Radio 4, BBC Radio 5 Live, BBC Radio 5 Live Sports Extra, BBC 6 Music, BBC Radio 4 Extra, BBC Asian Network, and BBC World Service) moves from C58 moves to C66, and Multiplex C (PICK TV, Dave, Really, E4+1, Big Deal, Create and Craft, Price Drop TV, Gems TV 1, PICK TV +1, Daystar TV, Food Network and Sky News) from C61 to C68.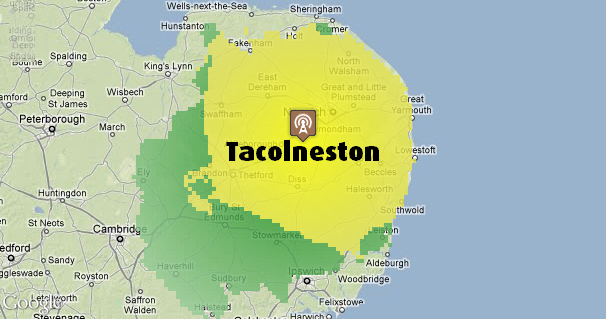 From 6am Wednesday 17 August 2011, you must to a perform a "first time installation" retune (sometimes "Factory Reset" or "Shipping Condition") on your Freeview box or television set

This is NOT the digital switchover for Tacolneston - that starts on Wednesday 9th November 2011 and completes on Wednesday 23rd November 2011.

These changes are required to protect the BBC multiplexes on the Waltham transmitter.
Comments
Wednesday, 17 August 2011

Love the old Anglia TV flag on this page.

Paul's 1 post
Thursday, 18 August 2011

Paul: Yes, it was rather a good logo, wasn't it?

Briantist's 38,844 posts

got a bit of a prob can anyone help..???
I use the 2nd tv out from my skybox to give a sky feed throughout the house but since the re-tune date this picture has become very poor.. is this due to change ???
when i unplug the tv aerial the picture is fine ??

james baker's 1 post

james baker: Yes, change the channel the box uses, see How do I change the RF output channel on a Sky Digibox? | ukfree.tv - independent free digital TV advice .

Briantist's 38,844 posts

PLEASE HELP!!!!

Hi... I followed the factory restore message on my screen last night. Previously Freeview had worked perfectly... Now all of my Freeview channels are blocky, scrambled, or just a blue screen. I've re-tuned via factory restare again, but still the same problem. My analogue channels are now better than the digital channels! What's happened..? My post code is NR3 4AB. I have sky in my living room which is fine... the problem is with Freeview in my bedroom. About a month ago, I have something fitted to my roof aerial, which runs off the mains in my dining room, which feeds the signal into my dining room and bedrooms. Done by a very reputable company. And has worked very well up until the re-tune last night. Please help!!!

emma's 2 posts

emma: If you have a rooftop aerial you should have no problems with Freeview reception - can you please see Freeview reception has changed? | ukfree.tv - independent free digital TV advice please for a list of things you should check.

Briantist's 38,844 posts

Thank you Briantist... I've looked at the page, and I have a few things to check. I can see that there are problems with the Tacolneston area at the mo...

Full service Freeview transmitters map | ukfree.tv - independent free digital TV advice

Thank you again

emma's 2 posts

emma: I think the "problems" are all related to the overnight switch of channels yesterday, I don't think there are any ongoing problems with transmission now.

Briantist's 38,844 posts
Select more comments
Your comment please