Tacolneston (East Anglia) transmitter Freeview retune

Brian Butterworth published on UK Free TV
If you live in East Anglia and use Freeview from the Tacolneston transmitter, you will need to perform a retune on Wednesday 17th August 2011.

At around midnight, multiplex B (BBC Four, CBeebies, BBC Parliament, 303, BBC Radio 1, BBC 1Xtra, BBC Radio 2, BBC Radio 3, BBC Radio 4, BBC Radio 5 Live, BBC Radio 5 Live Sports Extra, BBC 6 Music, BBC Radio 4 Extra, BBC Asian Network, and BBC World Service) moves from C58 moves to C66, and Multiplex C (PICK TV, Dave, Really, E4+1, Big Deal, Create and Craft, Price Drop TV, Gems TV 1, PICK TV +1, Daystar TV, Food Network and Sky News) from C61 to C68.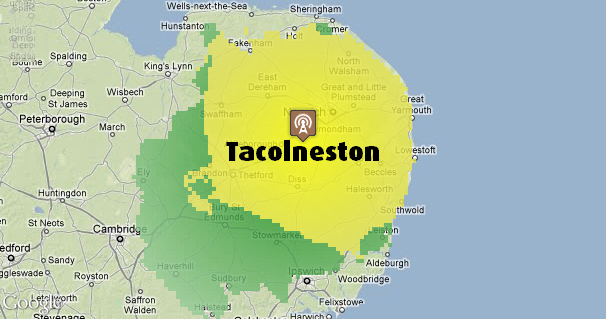 From 6am Wednesday 17 August 2011, you must to a perform a "first time installation" retune (sometimes "Factory Reset" or "Shipping Condition") on your Freeview box or television set

This is NOT the digital switchover for Tacolneston - that starts on Wednesday 9th November 2011 and completes on Wednesday 23rd November 2011.

These changes are required to protect the BBC multiplexes on the Waltham transmitter.
Comments
Thursday, 18 August 2011
J
Jonathan
8:12 PM
Bury St. Edmunds

Following this change and the retune of two boxes we've now lost BBC4 and CBeebies on both of them. IP32 7LQ (edge of Tacolneston zone). I can live with BBC4, not sure my wife will survive without being able to dump the kids in front of CBeebies!

Jonathan's 2 posts

I have a TV with built in Freeview and a digital hard drive recorder. I have retuned as required on Aug 17 for my post code (NR8). Digital hard drive is fine but the TV has lost BBC4, Parliament etc - which I read should now be channel 66. On a manual re-tune in an attempt to install chanel 66 I am told no signal and yet the hard drive has located these channels) I have also tried the disconnect and switch off for 30 seconds, but no joy there either. any help much appreciated.

Alex's 4 posts

Alex: I have seen it reported that Ch66 reception from Tacolneston is very weak, and your hard drive recorder is only likely to be picking it up because its more sensitive than the TV.

You should try a Ch66 signal check on your TV to see what the level / quality is showing as, plus if not already doing so, try plugging your aerial directly into the TV, as if by doing that the signal then shows a significant rise carry out a fresh re-tune storing as necessary.

Although the weak signal is not hopefully going to be a permanent feature, but if you do find that the picture is reasonably stable with the aerial directly into it, then you could purchase a two way powered splitter and use that to feed both devices, as each would then be receiving the same signal strength.

jb38's 7,179 posts

Since the retune yesterday, anglia at channel 3 breaks up all the time....has never done before!
However, Anglia has appeared also at channel 804 and is fine. The other main channels are duplicated around there as well.
I live at NR1 4HP.
What's happening?

JG's 2 posts

Jonathan: I would first try My Freeview box has no EPG, is blank on FIVE, ITV3, ITV4, ITV2+1, has no sound or the channel line up is wrong | ukfree.tv - independent free digital TV advice and then look for Single frequency interference | ukfree.tv - independent free digital TV advice on C66.

Briantist's 38,844 posts

Have also retuned as of 17/8/11 for freev iew tv and have now lost many fav channels including create and craft, see it's moved to channel 68, but when i try a manual tune it still doesn't find, was fine before the tacolneston retune - please could someone help/advise how to get the channels back

Jill's 1 post

Following the change of frequency of Mux B the other night I am unable to get those programmes, you must have reduced the power or your antenna is poorer at that frequency!

Mike Bellis's 1 post
Friday, 19 August 2011

Mike Bellis: Did you do a "first time install" or just a "scan for channels"?

The output level are the same, you might need to check for Single frequency interference | ukfree.tv - independent free digital TV advice on C66.

Briantist's 38,844 posts

Thanks JB38. I shall look at the configuration of cables etc and try that.

Alex's 4 posts

Jill: You may also need to look for Single frequency interference | ukfree.tv - independent free digital TV advice .

Briantist's 38,844 posts
Select more comments
Your comment please