Tacolneston (East Anglia) transmitter Freeview retune

Brian Butterworth published on UK Free TV
If you live in East Anglia and use Freeview from the Tacolneston transmitter, you will need to perform a retune on Wednesday 17th August 2011.

At around midnight, multiplex B (BBC Four, CBeebies, BBC Parliament, 303, BBC Radio 1, BBC 1Xtra, BBC Radio 2, BBC Radio 3, BBC Radio 4, BBC Radio 5 Live, BBC Radio 5 Live Sports Extra, BBC 6 Music, BBC Radio 4 Extra, BBC Asian Network, and BBC World Service) moves from C58 moves to C66, and Multiplex C (PICK TV, Dave, Really, E4+1, Big Deal, Create and Craft, Price Drop TV, Gems TV 1, PICK TV +1, Daystar TV, Food Network and Sky News) from C61 to C68.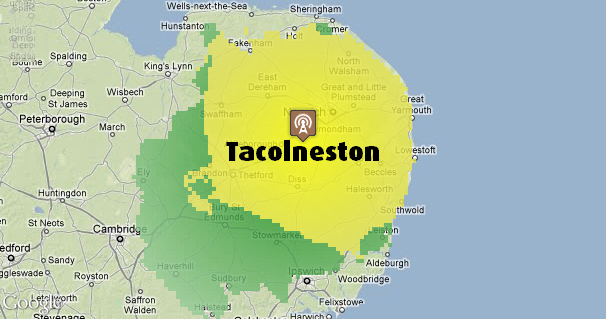 From 6am Wednesday 17 August 2011, you must to a perform a "first time installation" retune (sometimes "Factory Reset" or "Shipping Condition") on your Freeview box or television set

This is NOT the digital switchover for Tacolneston - that starts on Wednesday 9th November 2011 and completes on Wednesday 23rd November 2011.

These changes are required to protect the BBC multiplexes on the Waltham transmitter.
Comments
Friday, 19 August 2011

HELP!!!!! I have faithfully tried to retune both tvs in the house but to no avail, I have done factory reset and new installation continously since 17.8 and nothing changes - ariel is in for both tvs. no progarmming at all, just fuzzy screens.

J Harrowven's 1 post

JG: It is likely that you have Sudbury channels stored in the normal places and Tacolneston channels in the 800s. If possible do a manual tune for each of the Tacolneston frequencies after doing a factory reset to clear the channel list. You probably were out of range for the Sudbury signals prior to DSO at Sudbury which would explain why the problem was not seen previously.

KMJ,Derby's 1,811 posts

KMJ,Derby: Many thanks, all sorted now.

J's 1 post

J Harrowven: "fuzzy screens" is usually something you see when using an analogue tuner. Are you sure you have done a digital retune?

Briantist's 38,844 posts

@Brianist: Thanks for your response. With the aerial plugged directly into the TV (builtin freeview) to avoid local interference, and doing the two rescans (with/without aerial) as suggested, still no C66 channels :-( In fact I even lost the BBC1 group for a while too, until I retried later!

Our aerial is pre-digital-era and in the loft, so it has been on my mind sometime that we need to get a new one outside, I just wanted to wait until switchover before making the decision!

What's even harder now is that it looks as though C66 isn't going to be used after switchover, so all might be fine after that date. Now to wonder whether we can cope without these channels until November or bite the bullet and get a new aerial now!

Jonathan's 2 posts

I have a digibox and a digital TV, have done the re-tune as directed but have lost cBeebies (disaster) altogether on the digital TV (although we can receive it via the digibox). These are all in one location and linked to one another. Any ideas? Before I started we had a very pixelated broken version of cBeeebies which I tried to fix via this site and now it's listed as 'invalid channel'. Bed timing with summer holidays!!

Sarah's 1 post

Sarah: Assuming you are on Tacolneston, you probably need to do this - My Freeview box has no EPG, is blank on FIVE, ITV3, ITV4, ITV2+1, has no sound or the channel line up is wrong | ukfree.tv - independent free digital TV advice and if that doesn't fix it, see Single frequency interference | ukfree.tv - independent free digital TV advice .

Briantist's 38,844 posts

Jonathan: I think you will find that moving the aerial to the roof will provide you with stable a Freeview service. If you are having problems now, I can't see that switchover will necessarily fix it.

You are in a strong signal area already, a standard-sized rooftop aerial will be able to provide you with a reliable service.

Briantist's 38,844 posts

Thanks to Briantist and KMJ for the responses to my problem..I'll have a go at doing what you suggest this weekend.

JG's 1 post

Having re-tuned I find I am missing a lot of channels including BBC4, I have tried several times to re-tune but it not working.
I have also tried manual re-tuning, this is telling me that the signals are poor.
I used to be able to watch 5US as well. They have all disappeared.
Any suggestions.

Annie's 1 post
Select more comments
Your comment please