Tacolneston (East Anglia) transmitter Freeview retune

Brian Butterworth published on UK Free TV
If you live in East Anglia and use Freeview from the Tacolneston transmitter, you will need to perform a retune on Wednesday 17th August 2011.

At around midnight, multiplex B (BBC Four, CBeebies, BBC Parliament, 303, BBC Radio 1, BBC 1Xtra, BBC Radio 2, BBC Radio 3, BBC Radio 4, BBC Radio 5 Live, BBC Radio 5 Live Sports Extra, BBC 6 Music, BBC Radio 4 Extra, BBC Asian Network, and BBC World Service) moves from C58 moves to C66, and Multiplex C (PICK TV, Dave, Really, E4+1, Big Deal, Create and Craft, Price Drop TV, Gems TV 1, PICK TV +1, Daystar TV, Food Network and Sky News) from C61 to C68.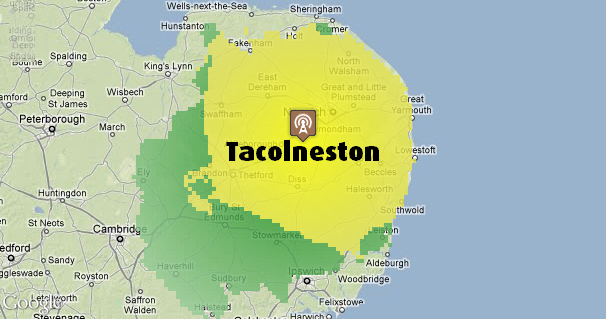 From 6am Wednesday 17 August 2011, you must to a perform a "first time installation" retune (sometimes "Factory Reset" or "Shipping Condition") on your Freeview box or television set

This is NOT the digital switchover for Tacolneston - that starts on Wednesday 9th November 2011 and completes on Wednesday 23rd November 2011.

These changes are required to protect the BBC multiplexes on the Waltham transmitter.
Comments
Sunday, 21 August 2011

jb38: Correct - aerial in loft, pointing directly at Tacolneston, which is to East of me. I can see the lights of the newer taller tower from bedroom window - nothing between.

I'm impressed with the Panny's ability to receive the Sudbury transmissions - it's South of me, so yes, I do lose the picture a couple of times a minute.

Richard's 7 posts
Monday, 22 August 2011
J
John Spencer Allen
9:08 AM

Have re-tuned all digital freeview tvs in our house, and none pick up SKY NEWS now (was 82, has this been dropped or will this be available again soon, OR have I not re-tuned properly?

John Spencer Allen's 3 posts
B
Brian Collier
10:17 AM
King's Lynn

Same problem, retuned several times since 18yj August, no Sky News

Brian Collier's 1 post

Post code ip17 2ND. Tuned to Tacolneston for years with excellent digi reception on integrated Freeview TV. Since 17 August we've lost Multiplex Groups b & C entirely. Have retuned to 'shipping condition' and 'add new services' till blue in face, just get'invalid DVB channel'on all services in these groups.

Ray's 1 post

Also lost Sky News....Was fine until the 17th..Done several factory resets .. still no sky news

David Burchill's 1 post

Ray: I had a look at the trade reception predictor for your P/code and to be quite honest about it what's seen does not look very promising, as only BBC1 (Mux Ch63) and Arq A (Mux ch68) are presently indicated as being possible for reliable(?) reception, the remainder in the "variable reception" category.

This situation should (in theory!) be rectified come the 23rd of November, as then all multiplex channels are shown as possible.



jb38's 7,179 posts

Help! Am I the only person to have lost my Sky Sports (from Freeview via BT Vision) since the 17th? The signal is very poor indeed- practically non-existent- but apart from a bit of flakiness on the Radio channels, these are the only channels affected. Very frustrating- last day of last Test! Any suggestions?

Christina's 4 posts

Since 17th have lost about 4 or 5 channels used to receive before the big re-tune not happy! What excatly am I paying money for a tv licence when I can't watch all the channels I want and yet other people in the country can? Think its disgraceful and blaten day light robbery I pay for all channels yet cannot watch them all reduce refund I think is in order?

donONE's 1 post
C
Christina
3:35 PM
Harleston

BTW- my nearest transmitter is Tacolneston (sorry, I thought these posts were grouped according to page on which they are posted but maybe not?). Please, can anyone suggest what I can do? If I have to move the aerial to point at Sudbury or Aldeburgh I will, but if this isn't going to last for long, I'd sooner not have to clamber up the ladder. Please, anyone with any info? (And my sympathy to donONE!).

Christina's 4 posts

donONE: It's probably worth pointing out that the TV Licence only pays for the BBC channels.

If you provide a postcode and perhaps a list of the channels you missing it might be possible to help.

Briantist's 38,844 posts
Select more comments
Your comment please