Tacolneston (East Anglia) transmitter Freeview retune

Brian Butterworth published on UK Free TV
If you live in East Anglia and use Freeview from the Tacolneston transmitter, you will need to perform a retune on Wednesday 17th August 2011.

At around midnight, multiplex B (BBC Four, CBeebies, BBC Parliament, 303, BBC Radio 1, BBC 1Xtra, BBC Radio 2, BBC Radio 3, BBC Radio 4, BBC Radio 5 Live, BBC Radio 5 Live Sports Extra, BBC 6 Music, BBC Radio 4 Extra, BBC Asian Network, and BBC World Service) moves from C58 moves to C66, and Multiplex C (PICK TV, Dave, Really, E4+1, Big Deal, Create and Craft, Price Drop TV, Gems TV 1, PICK TV +1, Daystar TV, Food Network and Sky News) from C61 to C68.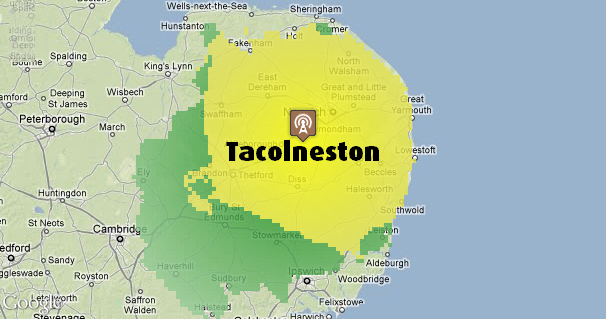 From 6am Wednesday 17 August 2011, you must to a perform a "first time installation" retune (sometimes "Factory Reset" or "Shipping Condition") on your Freeview box or television set

This is NOT the digital switchover for Tacolneston - that starts on Wednesday 9th November 2011 and completes on Wednesday 23rd November 2011.

These changes are required to protect the BBC multiplexes on the Waltham transmitter.
Comments
Monday, 22 August 2011

Christina: Sky Sports 1 and 2 are carried on the same multiplex as the BBC radio stations, so you need to look for Single frequency interference | ukfree.tv - independent free digital TV advice on C66.

Briantist's 38,844 posts

This doesnt really bode well for the big switchover in November if they cant get a retune sorted for folks.

Why does it have to be so difficult?

Jason's 3 posts

I too have lost my SkySports through BT Vision along with CBeebies, BBC4 etc all on the same multiplex B. Have just phoned the DigitalUK helpline, but the chap was just 'try re-tuning in a couple of days as there are still problems with the Tacolnesten transmitter'. Didn't really have a clue when I said about them changing from Channel 58 to 66.
So have missed the rest of the cricket, weekend's football and tonight utd v spurs.
Disaster!
So, do I cancel the extra subscription (its on a rolling monthly) to skysports until November, or stick it out as it will be fixed?
Somebody, somewhere must know if this problem with mulitplex B is with us just very temporarily, until November or forever now?
Thanks

Neil's 3 posts

Briantist- thanks for that. I'll have a look in case I can coax a bit more out of the signal I *am* receiving. Neil- that's exactly what I'd like to know, and no-one at DigitalUK wants to say (indeed when I first rang, I was assured there's no problem! Now I'm told it's 'only intermittent'- which is of course complete rubbish!). Good grief, they must HAVE a project plan, surely? So why can't anyone dust it down and look at it? Or am I being too optimistic about their project management abilities?

Christina's 4 posts

Neil: If there is a problem with reception on C66, and you have already done a "first time installation" on your equipment, as directed above, please see Single frequency interference | ukfree.tv - independent free digital TV advice .

Briantist's 38,844 posts

Thanks Briantist.
I have tried identifying any other equipment that may cause interference and been up in the loft this afternoon stripping back the ariels checking their connections. I have also recently moved power sockets in the loft so to move the powered splitter ensuring a short run of cable from rooftop ariel to living room, enabling me to receive some channels on Mux D that I wasn't before.
So prior to 17th my freeview signal, in my living room in particular, was great, as good as it has ever been and I was receiving all channels and well pleased.
Now its all fine apart from Mux B channels, and sometimes Mux1.
I'm currently sitting listening to the footy, as a utd fan, and its wholly depressing! :-(

Neil's 3 posts

Neil

I am in the Talconeston area and i lost all of Multiplex C on August 17th.
Before this date i had every Mux & Channel from Talconeston over Freeview
So it would appear there are some problems with Talconeston if you have lost Mux B & i have lost Mux C
I know this doesnt help you but it at least shows it is most likely the transmitter at fault.

Hopefully i also do not have to wait till 23rd Nov to get all my channels back, not happy to say the least!

donny's 8 posts

To everybody who has lost channels particulary Sky Sports on BT Freeview I have just fitted an aeriel booster at the coax wall socket retuned and got the channels back. Hope it helps.

bob's 1 post

I have lost Sky from my 2nd/3rd TV's, have tried retuning without success. As this problem arose last week I'm assuming it's got something to do with the transmitter. I've spoken to others who are also having the same problem-any ideas please?

Michael's 1 post
Tuesday, 23 August 2011

Michael: Please see How do I change the RF output channel on a Sky Digibox? | ukfree.tv - independent free digital TV advice for details of how to change the output of the Sky box from C66.

Briantist's 38,844 posts
Select more comments
Your comment please