EXCLUSIVE More Freeview capacity coming 2012-2016

Brian Butterworth published on UK Free TV
It appears the Ofcom has decided that the UHF channels C31, C32, C33, C34, C35, C36 and C37 will be used for new Freeview services which will be rolled out on the 80 main transmitters by autumn 2016.

It appears that the seven UHF channels in the lower "digital dividend review" cleared spectrum for additional Freeview services.





It is possible that these services could be used for seven single-frequency networks (SFN) multiplexes, or less if they are used for multi-frequency networks.

Ofcom could assign C37 to a second public service high definition multiplex, as it can be received by all aerial groups. This could provide BBC three and BBC FOUR in HD, with perhaps ITV 2 HD and ITV 3 HD plus E4 HD, as Ofcom expect to get five HD channels per multiplex by 2013 - Five HD is expected on the BBCB multiplex at the end of 2012.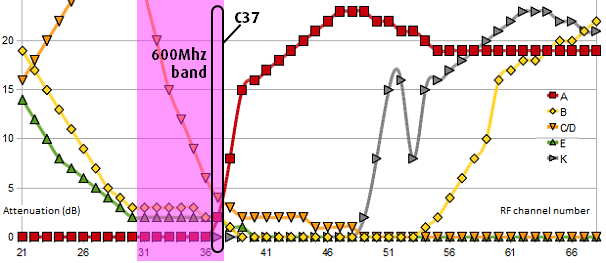 The remaining channels C31 to C36 will be receivable for group A, group B, group E group K and wideband aerial, and could provide high definition capacity to match all of the existing standard definition Freeview channels. (See also Aerial group performance).

Seven single frequency HD multiplexes would give Freeview HD another 35 high definition channels, making a total of 40 by 2016.

The six lower frequencies (C31-C36) will mean users of the following transmitters users require wideband aerials to watch the new services: Angus, Beacon Hill, Brierley Hill, Brighton (Whitehawk Hill), Carmel, Dover, Heathfield, Huntshaw Cross, Keighley, Limavady, Llanddona, Malvern, Mendip, Midhurst, Olivers Mount, Oxford, Plympton, Pontop Pike, Reigate, Rosneath, Salisbury, Selkirk, Tacolneston, Waltham and Winter Hill.

Ofcom has yet to consult on the actual usage and bidding process for these new frequencies.
The evidence
Arqiva is the company that owns all of the television transmitters in the United Kingdom, as well as two of the six Freeview multiplexes.
Regular contributor Mike Dimmock has pointed out that Arqiva have
applied to South Norfolk District Council, to make changes to the Tacolneston transmitter
, in which they say
"The decision has now been taken to reallocate spectrum at 600 MHz for additional terrestrial television broadcast services and OFCOM is tasked with the preparatory work leading up to the auction of this spectrum."
September 2011 - Arqiva Reference Offer prepared for OFCOM
Q2 2012 - Government holds Spectrum Auction
Q3 2012 new licences issued
Q3 2016 - Arqiva antenna works completed at Main Stations
Ofcom have been asked to comment.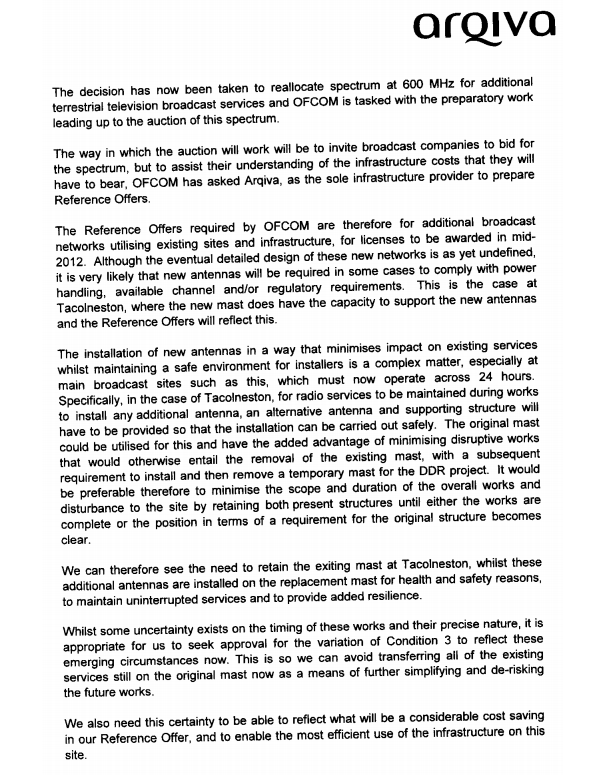 Comments
Thursday, 5 June 2014

Nigel: In which case your problem is probably that your TV has run out of memory, what with C60 being the last to be found. If it receives HD then what's happened could be explained by the new quasi-national COM7 HD mux coming on air from Bilsdale (not sure what date this happened).

Clear it all and manually tune, or have the aerial unplugged for a part of the automatic tuning scan where there is a multiplex you don't use.

However, if the only two transmitters you can get are Bilsdale and Oliver's Mount then you might have to use the latter for PSB1 and PSB2.

Dave Lindsay's 5,724 posts

Nigel: If your tv has a channel delete facility, try deleting some channels you do not use, such as adult channels or connect channels.

KMJ,Derby's 1,811 posts
Saturday, 7 June 2014

No delete facility. If it was memory why is ITV +1 Yorks OK ? Will try a clear and start again

Nigel's 54 posts

Nigel: Yes, but are you receiving ITV Yorks+1 from Bilsdale (there isn't a +1 for every region)?

Dave Lindsay's 5,724 posts
Sunday, 8 June 2014

Dave ITV +1 Yorks is OK on LCN 33 from Olivers Mount, Bilsdale duplicates are aright in 800s just LCN 3 wont recall after set as been in stand by. Did a rescan with ariel unpluged and a scan with ariel conected and still no LCN 3

Nigel's 54 posts
Monday, 9 June 2014

Nigel: That does sound odd, but you've got to try something different. Doing the same thing over and over and expecting different results causes insanity.

Try missing out one or more of the Bilsdale COM multiplexes. Tune in PSB2 services from Bilsdale and the two from Oliver's Mount. Then power down and see if Oliver's Mount LCN3 is remembered or forgotten.

Dave Lindsay's 5,724 posts
Tuesday, 10 June 2014

Moved QVC to LCN 3 put TV into stand by and turned back on all OK
Manual rescan of Ch 60 Olivers Mount ITV Yorks now LCN 806 put TV into stand by and turned back on all OK Put QVC and then ITV Yorks back to correct LCN put TV into stand by and turned back on all OK
Looking good fingers crossed

Nigel's 54 posts
Wednesday, 11 June 2014

back to square one no ITV Yorks


Nigel's 54 posts

Nigel: Perhaps the TV has taken it upon itself to do a full automatic tune which has wiped out what you achieved with much work.

Dave Lindsay's 5,724 posts
Sunday, 15 June 2014

Update Turn on TV and no LCN 3
Select LCN 33 ITV +1 Yorks then select LCN 3 and ITV Yorks is back
So for second time fingers crossed

Nigel's 54 posts
Select more comments
Your comment please