Diary of changes to capacity of ArqB, ArqA and SDN multiplexes

Brian Butterworth published on UK Free TV
There are changes going on to the 58 full-Freeview transmitters that have "switched over" to digital only transmission and are carrying the high power digital services.

By a modification to one of the parameters used for broadcast (the "forward error correction") the capacity of the multiplexes increases by 12.5%, which is sufficient for an additional standard-definition channel to be broadcast.

The changes will not allow for an extra channel until all of the transmitters have been changed - the current plan has the last transmitter required for ArqB to have an extra channel upgraded on 23rd November.

In the dairy below, 19 transmitters have an ArqA mode change, and 8 have changes to SDN.


Comments
Friday, 4 November 2011

Briantist:I understand the link between bitrate and quality when reception is fine, but there will be a 'fringe area' where the digital signal quality is close to the cliff-edge between watchable and not (Analogue TV had more graceful degradation). The power difference between PSB and COM makes it clear that some will only be able to get PSB channels, and there will be a 'fringe' area where COM is marginal. The mode change just moves this fringe in towards the TX a bit.



mst's 18 posts

andyboy: This would occur if you were using the Tacolneston transmitter.

Briantist's 38,844 posts

mst: The point of calling a "cliff edge" is because that is what it is - there is no area where any degradation happens.

The difference in power levels does mean that PSB coverage will be more than COM and the COM operators do not mind this.

Here's a graph: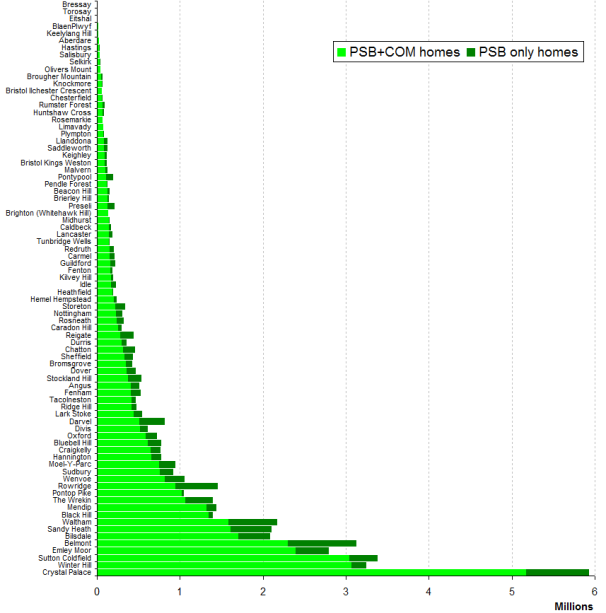 However, there is not a "fringe area" where there is NO COM. "Marginal" reception means you get is sometimes and not at others, not that those places receive a degraded constant service.

Briantist's 38,844 posts
A
andyboy
12:31 PM
Benfleet

hi andyboy it say all channels on sudbury and on london channels as well now please what goning very confused thanks

andyboy's 14 posts

andyboy: I wouldn't worry about it.

Briantist's 38,844 posts
Thursday, 10 November 2011

The signals for Film4 and ITV4 have recently disappeared from my TV in Dundee. Why, and are they going to be restored?

Martin Andrews's 1 post

Martin Andrews: Please see Single frequency interference | ukfree.tv - independent free digital TV advice - the channels will return when you discover what the problem is...

Briantist's 38,844 posts
Thursday, 1 December 2011

According to digital UK postode checker the Oxford TX has already switched the SDN mux to FEC 3/4

Also gives the final channel change for this mux from C62 to C50 in 2013

mst's 18 posts
Sunday, 4 December 2011

For the past week the channels on the ARQA multiplex have had sound break-up ptomlems through my television set. I have done a retune but with no improvement. These channels work o.k. through my recorder. Any ideas what can be done.

DAVID's 2 posts

DAVID: With a query of that nature you really have to give info on your location (post code) so that the ArqA transmitter being referred to is known.

But just to clarify a point, are you saying that its only the TV that is suffering from this problem, as if viewing through your recorder reception is perfectly OK?

If so maybe you could come back with the make / model of the TV you are using plus your post code, this to enable a check on technical aspects of the channel involved in relation to the spec of your TV.

jb38's 7,179 posts
Select more comments
Your comment please