Are you really watching free TV in high definition?

Brian Butterworth published on UK Free TV
You need to ask yourself a series of questions if you want to be sure you are taking advantage of the free HD TV channels.

Given that, in the current week, ITV 1 HD gets only 2.6% of total viewing, compared to 36.5% to the channel in standard definition, and that BBC HD gets 1.2% of total viewing compares 26% for comparable channel BBC TWO, it seems that many people are not taking advantage of the improved pictures and sound that can easily be enjoyed.

So, you have to ask yourself five questions:


Q1 Do you have a high definition television set?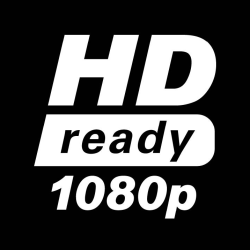 You need to check that your television is actually high definition. Almost all HDTVs are flat screen, but it does not follow that all flat screen televisions are high definition.
The best two clues to look for are the "
HD Ready
" or "Full HD Ready" logos, and also that the television set has HDMI connectors.
If you have the manual for your television set, it may describe HD as "720 line" or "1080 line". If these are not mentioned, you don't have HD and you will need a new television set.
See also
What does "Full HD Ready" actually mean? - ukfree.tv - independent free digital TV advice
Q2 Does your HDTV have built in Freeview HD or Freesat HD?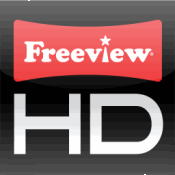 Most HD televisions sold in the UK are "HD Ready", which means that they are capable of showing high definition pictures, but only from an external box.
Some, more expensive, TV sets have
Freeview HD
or
Freesat
HD built in.
If your TV set has the Freeview HD logo, it can receive what are known as "DVB-T2" transmissions, which means you get HD direct from the TV
aerial
connection. If this is the case, see Q4. If the set is "HD Ready with Freeview" it means you can't.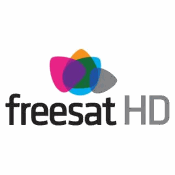 Some high end sets have Freesat HD built in, where you can watch the free high definition channels from
satellite
. For this to work you will have to use the satellite connection on the set. Remember that set will also have standard definition Freeview, so pictures from the normal TV aerial will not be in high definition.
Q3 If your HDTV doesn't have built-in reception - do you have a Freeview HD or Freesat HD box and the correct cables?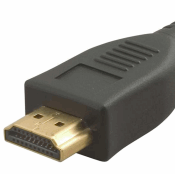 If you have an HD Ready television, you can connect it to an external set-top box to receive either Freeview HD or Freesat HD.
You must make sure that you connect
the box
to the television set using an HDMI
cable
. If you use a
SCART
lead you won't have HD.
Q4 Do you remember to switch to the HD versions of BBC One, ITV 1 or Channel 4
You do not automatically get to watch BBC One, ITV 1 (or STV) or
Channel 4
in HD.
You must select the special channel numbers for these
services
, as the usual channel numbers (1, 3, 4 and 8 on Freeview, 101, 103, 104 on satellite) will only show in standard definition.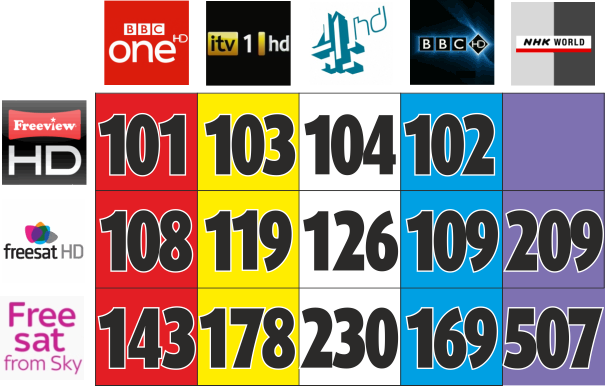 On Freeview HD, 50 must be selected for
BBC One HD
, 51 for ITV1 HD (or
STV HD
), 52 for
Channel 4 HD
(not in
Wales
), 53 for
S4C HD
(Wales only) and 54 for BBC HD.
On Freesat HD, you must choose 108 for BBC One HD, 109 for BBC HD, 119 for ITV 1 HD (or STV HD), 126 for Channel 4 HD and NHK World HD is on 209.
On
Sky
HD, you have to choose 140 for Channel 4 HD, 143 for BBC One HD, 169 for BBC HD, 178 for ITV 1 HD.
Q5 Is the HD channel actually showing an HD programme?
Only the BBC HD channel has a HD-only schedule. On BBC One HD, ITV 1 HD and Channel 4 HD non-HD programmes are shown "upscaled" to HD resolutions and look better than the pictures on the SD version of the channel.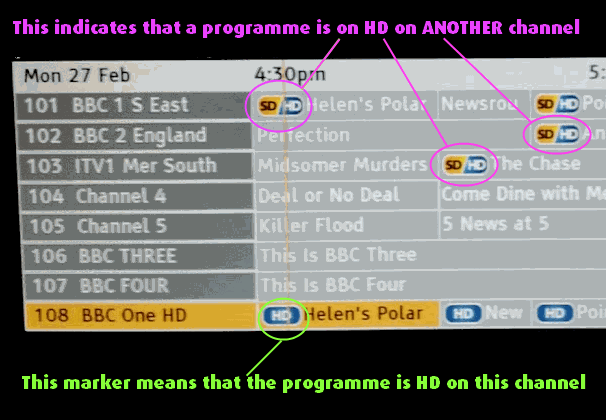 Check in the EPG (usually the INFO or GUIDE button on the remote) to see if the programme that is being shown has an HD marker in the listings.
Comments
Monday, 2 April 2012
B
brian
3:10 PM
Waterlooville

brian: watched homeland ch4 hd last night, the volume was so low we switched back to ch 4 std, volume was fine on there.....Is ch4 hd volume suspect???

brian's 8 posts
Tuesday, 3 April 2012
T
Tony Hill
3:10 PM
Dorchester

Brian:

I think "Homeland" was in 5.1 sound and the surround volume is always lower than the "standard" sound carried by the SD broadcasts.
I assume, because there are more channels to carry on 5.1. Can you receive 5.1 audio?

Tony Hill's 65 posts
B
brian
3:33 PM
Waterlooville

brian: Thanks for that Tony, no only use the tv sound, no 5.1, the problem was the adverts blasted you out of the room when the volume was set to hear homeland,so just went back to std ch4, no problem them.....


brian's 8 posts
Wednesday, 4 April 2012
T
Tony Hill
3:00 PM
Dorchester

Brian:

A "double-whammy" for you: adverts are always hugely louder, aren't they - and they would have been in louder 2.0 audio after the lower volume 5.1 of the programme!

Tony Hill's 65 posts
Monday, 9 April 2012
L
Loraine Hurd
11:43 AM
Petersfield

We have a panasonic viera TX-32LXD600 with internal freeview currently running software version 1.52.Since switchover we have all our channels but no timer or time showing so now have no TV listings guide and often cant watch the channel we want as no info listed and it wont let us. When you try it brings up message" invalid system time."
Please help its driving me crazy. Have tried auto tune set up and it just gets worse.I think we are on Midhurst transmitter.

Loraine Hurd's 1 post

Loraine Hurd: I Googled the word Viera followed by "invalid system time" (in quotes). This brought up a raft of links to user manuals for Panasonic Viera models.

One says that the meaning/action for this message is "Cannot get the time information and cannot edit Timer Programming screen. Check the connection of the RF cable."

The RF cable is the aerial lead and I presume that as you've tuned, it is connected correctly.

"Invalid system time" suggests that the clock has not been set. Have you checked that the time and date are set correctly?

Dave Lindsay's 5,724 posts
Tuesday, 17 April 2012

I bought a Panasonic 'Full HD' TX32LZD85 in 2008 and was told by the Panasonic shop that this was future proof for when Rowridge switched over and would show the Freeview HD channels.
But of course it doesn't, and now Panasonic couldn't care less.
I am wondering whether the reason is that Panasonic assumed when they sold me the set that HD would go out on the DVB-T standard whereas DVB-T2 which is used in the UK for HD was only ratified in June 2008?

IKG's 3 posts

IKG: Google "Full HD" and it says that it is 1080p. It does not qualify that the in-built tuner can receive HD services over the air.

It is correct that the set will "show" Freeview HD channels from Rowridge, or any UK transmitter for that matter. A separate tuner will be needed to receive it.

Dave Lindsay's 5,724 posts

Dave Lindsay:

Thanks for your reply.
I understand that "Full HD" refers to the picture definition, and that a DVB-T2 tuner will now be required to receive HD because the decision to use that standard rather than DVB-T for HD transmissions had not been taken when I purchased the set.
My question is whether I would have been able to receive HD through the existing tuner as promised by the shop had the UK continued to use DVB-T (like many countries) rather than change to the new standard DVB-T2 for HD?

IKG's 3 posts

IKG: With respect, I don't see as there is anything you can do.

If the person said "I think you will be able to receive Freeview HD transmissions at switchover", then that is a statement of opinion rather than statement of fact (as it starts "I think").

If the salesperson told you that "you will be able to receive Freeview HD transmissions" when Rowridge switches over, then they made, what turns out to be, an incorrect statement. But I wouldn't think that in law a customer can hold a retailer to what they said would happen in the future (when it hadn't been finalised), particularly when the decision of what happens is down to someone else and certainly not after four years.

If they said that it will "show the Freeview HD channels" when switchover happens, then that is what you have. That is, it will "show" them.

As I say, it's four years ago so I don't think that there's a lot to be done.

And in any case, if this was all verbal then it's your word against there's or perhaps the person that sold it to you has moved on.


I appreciate that the marking people band about terms like "Full HD" and "HD Ready" and that some will have interpreted (prior to switchover) that the latter meant that it is ready to receive HD when it comes on the air. That's marketeers for you. I'm certainly not a marketeer so would have never used such ambiguous phrases.

Dave Lindsay's 5,724 posts
Select more comments
Your comment please