Are you really watching free TV in high definition?

Brian Butterworth published on UK Free TV
You need to ask yourself a series of questions if you want to be sure you are taking advantage of the free HD TV channels.

Given that, in the current week, ITV 1 HD gets only 2.6% of total viewing, compared to 36.5% to the channel in standard definition, and that BBC HD gets 1.2% of total viewing compares 26% for comparable channel BBC TWO, it seems that many people are not taking advantage of the improved pictures and sound that can easily be enjoyed.

So, you have to ask yourself five questions:


Q1 Do you have a high definition television set?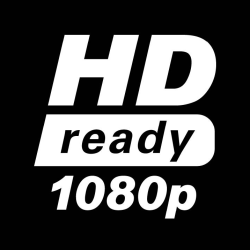 You need to check that your television is actually high definition. Almost all HDTVs are flat screen, but it does not follow that all flat screen televisions are high definition.
The best two clues to look for are the "
HD Ready
" or "Full HD Ready" logos, and also that the television set has HDMI connectors.
If you have the manual for your television set, it may describe HD as "720 line" or "1080 line". If these are not mentioned, you don't have HD and you will need a new television set.
See also
What does "Full HD Ready" actually mean? - ukfree.tv - independent free digital TV advice
Q2 Does your HDTV have built in Freeview HD or Freesat HD?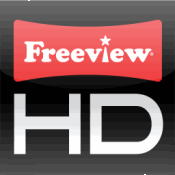 Most HD televisions sold in the UK are "HD Ready", which means that they are capable of showing high definition pictures, but only from an external box.
Some, more expensive, TV sets have
Freeview HD
or
Freesat
HD built in.
If your TV set has the Freeview HD logo, it can receive what are known as "DVB-T2" transmissions, which means you get HD direct from the TV
aerial
connection. If this is the case, see Q4. If the set is "HD Ready with Freeview" it means you can't.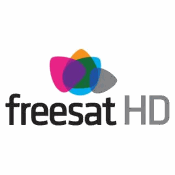 Some high end sets have Freesat HD built in, where you can watch the free high definition channels from
satellite
. For this to work you will have to use the satellite connection on the set. Remember that set will also have standard definition Freeview, so pictures from the normal TV aerial will not be in high definition.
Q3 If your HDTV doesn't have built-in reception - do you have a Freeview HD or Freesat HD box and the correct cables?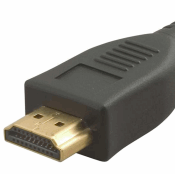 If you have an HD Ready television, you can connect it to an external set-top box to receive either Freeview HD or Freesat HD.
You must make sure that you connect
the box
to the television set using an HDMI
cable
. If you use a
SCART
lead you won't have HD.
Q4 Do you remember to switch to the HD versions of BBC One, ITV 1 or Channel 4
You do not automatically get to watch BBC One, ITV 1 (or STV) or
Channel 4
in HD.
You must select the special channel numbers for these
services
, as the usual channel numbers (1, 3, 4 and 8 on Freeview, 101, 103, 104 on satellite) will only show in standard definition.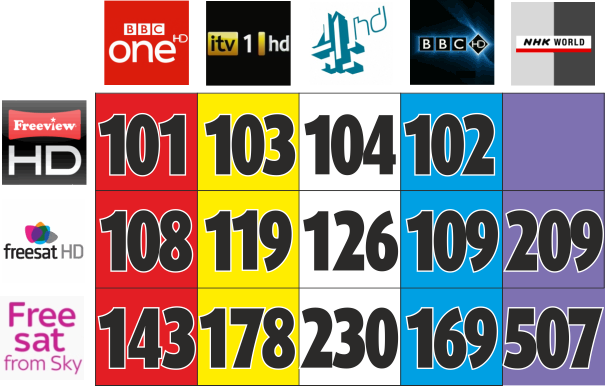 On Freeview HD, 50 must be selected for
BBC One HD
, 51 for ITV1 HD (or
STV HD
), 52 for
Channel 4 HD
(not in
Wales
), 53 for
S4C HD
(Wales only) and 54 for BBC HD.
On Freesat HD, you must choose 108 for BBC One HD, 109 for BBC HD, 119 for ITV 1 HD (or STV HD), 126 for Channel 4 HD and NHK World HD is on 209.
On
Sky
HD, you have to choose 140 for Channel 4 HD, 143 for BBC One HD, 169 for BBC HD, 178 for ITV 1 HD.
Q5 Is the HD channel actually showing an HD programme?
Only the BBC HD channel has a HD-only schedule. On BBC One HD, ITV 1 HD and Channel 4 HD non-HD programmes are shown "upscaled" to HD resolutions and look better than the pictures on the SD version of the channel.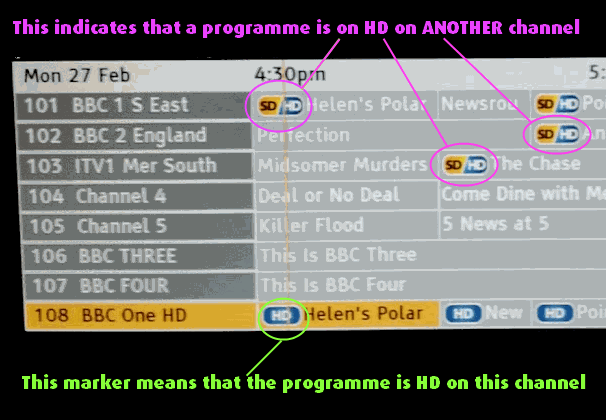 Check in the EPG (usually the INFO or GUIDE button on the remote) to see if the programme that is being shown has an HD marker in the listings.
Comments
Tuesday, 17 April 2012

Dave Lindsay:

Thanks for your comments; as you say it's a long time ago, and impossible to prove one way or the other. I was just trying to understand whether there was a technical explanation for what might have happened. Perhaps I was trying to be too clever at the time to try to future proof so far in advance, but the old CRT set had had its time!

IKG's 3 posts
Wednesday, 18 April 2012

I bought a Freeview HD box on the weekend so I could tune into the HD channels that were suppose to be available on 13 April in the village of Geddington (NN14 1AX) according to your website. I live along the A43 between Kettering and Corby. Upon closer examination of your website, according the the coverage map it seems I currently live in what appears to be a dead zone for Freeview HD programming. Is the reception situation likely to change in my area in the near future, or should I return the HD kit and go back to my standard def box? Thank you in advance for your reply.

Festus's 1 post

Festus: If you can receive Freeview SD channels, then you will be able to receive Freeview HD, as the BBCB multiplex that has the HD services runs at the same coverage levels as the BBCA one with the SD BBC services on it.

So... please can you see the Single frequency interference | ukfree.tv - independent free digital TV advice page, and perhaps have a look at everything at the top of the page?


Briantist's 38,844 posts
Sunday, 22 April 2012
T
Tony Hill
1:11 PM
Dorchester

All:

Any thoughts from anybody on the relative merits (picture quality, etc) of HD from "freesat" (NOT from Sky) v "Freeview"?

Anybody with both? I have "freesat" HD but only "Freeview" SD and am wondering if it is worth upgrading my Freeview SD to HD.

Tony Hill's 65 posts
Wednesday, 25 April 2012

Quite new to this and getting confused. I want to buy a PVR but need to decide between FreeView and FreeSat. I want to concentrate on HD channels. I live in the FK2 0PT postcode.
I cannot get ANY HD channels on FreeView but get BBC1 on 108 C4 on 126, NHK on 209 and BBC HD on 109 on Freesat. I believe that STV will start HD in June.
Any ideas as to why I am getting nothing on Freeview.

Robert's 4 posts

Robert: HD services are available from all Freeview transmitters that have completed switchover. The likely answer as to why you don't get HD services is because your receiver does not cater for HD services. These are in DVB-T2 mode and this will be shown in the specification section of your receiver's manual (if it exists). DVB-T is the mode of standard definition services.

www.stv.tv/hd says that STV's HD service will begin on 6th June. Also on Freeview HD is BBC One HD, BBC HD and Channel 4 HD.

For a comparison of full Freeview vs Freesat, see Compare Freeview and Freesat TV | ukfree.tv - independent free digital TV advice

Dave Lindsay's 5,724 posts

Robert: Thanks for the reply. I think I may need a re tune so am off to wade through the ridiculous manual I found on line for my Sony, great TV, dreadful manual!

Robert's 4 posts

Robert: Well I've done the Digital Retune and still have a gap between channels 49 and channel 60 with no HD channels BUT I have HD on Freesat so it's unlikely that I have 2 different tuners in the set. Am off to bother Sony.

Robert's 4 posts
Friday, 27 April 2012

Robert:
Update Fri 27th. I have had the aerial checked. My TV man now thinks that there is no HD being transmitted from the Craigkelly transmitter in Fife Scotland. Any ideas where I can find out if this is the case?

Robert's 4 posts
Saturday, 9 June 2012

Why is he volume too low on bbc hd freeview?

Gerald's 1 post
Select more comments
Your comment please