Switchover starts in Hampshire, West Sussex coast plus Brighton and Hove

Brian Butterworth published on UK Free TV
This week sees the first stage of the digital television switchover for 721,393 homes in Hampshire and West Sussex plus the 118,500 homes in the city of Brighton and Hove.

From 6am Wednesday 7th March 2012, you must perform a "first time installation" retune (sometimes "Factory Reset" or "Shipping Condition") on your Freeview box or television set if you use the Rowridge, Salisbury or Whitehawk Hill full service Freeview transmitter.

This is because the old low power "multiplex 1" BBC service will be replaced by the high power BBCA multiplex on the old analogue BBC TWO frequency:


Rowridge (starts midnight, ends by 6am) - BBC TWO analogue closes on C24, Mux 1 closes on C34, BBCA starts on C24.
Salisbury (starts midnight, ends by 6am) - BBC TWO analogue closes on C63, ITV 1 analogue moves to C60 from C53, Mux 1 closes on C55, BBCA starts on C57.
Whitehawk Hill (starts midnight, ends by 6am) - BBC TWO analogue C60 closes. ITV 1 analogue swaps to C63 from C60. Multiplex BBCA starts on C60. Multiplex 1 C66 closes. Mux A moves from C55 to C66.
On Wednesday 7th March 2012 if you use the
Bevendean
(noon),
Bovington
(noon),
Brading
(noon),
Brighstone
(noon), Brighton (Central) (noon),
Canford Heath
(2pm),
Cheselbourne
(noon),
Coldean
(3pm),
Corfe Castle
(9am),
Donhead
(6am),
Findon
(9am),
Hangleton
(noon),
Horndean
(9am),
Luccombe
(9am),
Lulworth
(noon),
Luscombe Valley
(9am),
Millbrook
(noon),
Ovingdean
(3pm),
Patcham
(9am),
Piddletrenthide
(3pm), Poole (6am),
Portslade
(9am),
Poulner
(11am),
Saltdean
(9am),
Shrewton
(9am),
Singleton
(6am),
Sutton Row
(9am),
Till Valley
(noon),
Ventnor
(9am),
Westbourne
(noon),
Winterbourne Steepleton
(9am), Winterbourne Stickland (9am)
relay
transmitters you will be able to receive the BBC Freeview
services
(with the exception of HD) for the first time, and you will no longer be able to view BBC TWO on analogue.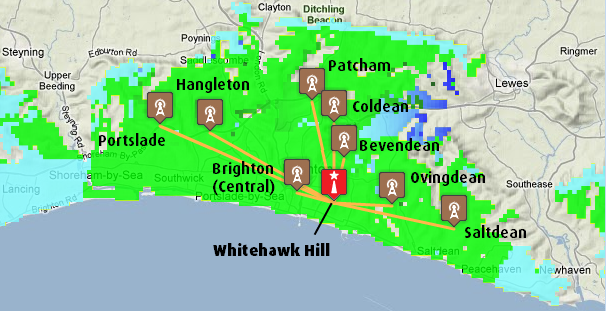 Remember, this is the last two weeks viewers in Brighton and Hove will be part of the BBC "South Today"
region
, as the transmitter will now move to the BBC "South East Today" region (as they are already on
Sky
and
Freesat
) - see
Brighton transmitters will be in BBC South East from March 2012
.
You MAY find that old equipment will no longer work - see
TVs and boxes that do not support the 8k-mode
Another common problem at switchover is the increase in
signal
will overload amplifiers and over-the-top
aerial
installations. If this is the case you will have to remove the
booster
or
amplifier
from the system, or perhaps fit an attenuator if you have no amplification. - see
Freeview signals: too much of a good thing is bad for you
.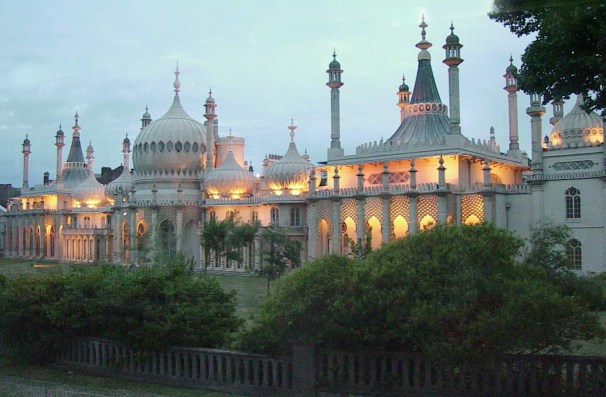 On
Wednesday 21th March 2012
will see the second stage of switchover, which provides the final Freeview configuration, including
Freeview HD
for all transmitters in this region.
On this date, you will need, once again, to do a "first time installation" as indicated above.
If you are over 75, you should already have been supplied new equipment by the
Switchover Help Scheme
.
Comments
Tuesday, 6 March 2012

John: Whitehawk Hill should be the first option for the postcode given, as this will transmit all six muxes after switchover. As Dave rightly suggests, Findon is an option, but only for the PSB muxes as this is a Freeview Light relay.

KMJ,Derby's 1,811 posts

have you got the mux changes right for Whitehawk? the digital uk site says Mux 1 will change from 66 to 60 NOT 55 to 57, you say...

Whitehawk Hill (at 6am) - BBC TWO analogue closes on C63, BBC One analogue moves to C63 from C57, Mux 1 closes on C55-, BBCA starts on C57.

cheers

jonny's 6 posts

I think you have mixed Whitehawk up with Salisbury tx

jonny's 6 posts

Sorry folks, finger trouble with the Whitehawk Hill and Salisbury lines. Now corrected.

Briantist's 38,844 posts
P
Paul Simpson
11:39 PM
Worthing

I've noticed over the last few days that my DAB radio reception in my car has really dropped off for D1 National stations in the BN12 6QQ area. Is this/could this be related to and Whitehawk Hill tx issues associated with switchover?

Paul Simpson's 2 posts

Paul Simpson: Hi. No, the DAB system is totally separate from the digital TV. It's on different frequencies and uses a different transmission system.

You can see the local DAB transmitters for D1 here - Details of 11D/D1 National DAB multiplex | ukfree.tv - independent free digital TV advice .

Briantist's 38,844 posts
Wednesday, 7 March 2012

Here is the BBC TWO analogue going off...


Briantist's 38,844 posts

How Do Youh Get Your Freeview Working Again??

Kay's 1 post

Hmm video is private with me, 12 sec delay wih me betweeen my relay and Rowridge, did'nt expect that...

Dave's 126 posts
Select more comments
Your comment please