Switchover starts in Hampshire, West Sussex coast plus Brighton and Hove

Brian Butterworth published on UK Free TV
This week sees the first stage of the digital television switchover for 721,393 homes in Hampshire and West Sussex plus the 118,500 homes in the city of Brighton and Hove.

From 6am Wednesday 7th March 2012, you must perform a "first time installation" retune (sometimes "Factory Reset" or "Shipping Condition") on your Freeview box or television set if you use the Rowridge, Salisbury or Whitehawk Hill full service Freeview transmitter.

This is because the old low power "multiplex 1" BBC service will be replaced by the high power BBCA multiplex on the old analogue BBC TWO frequency:


Rowridge (starts midnight, ends by 6am) - BBC TWO analogue closes on C24, Mux 1 closes on C34, BBCA starts on C24.
Salisbury (starts midnight, ends by 6am) - BBC TWO analogue closes on C63, ITV 1 analogue moves to C60 from C53, Mux 1 closes on C55, BBCA starts on C57.
Whitehawk Hill (starts midnight, ends by 6am) - BBC TWO analogue C60 closes. ITV 1 analogue swaps to C63 from C60. Multiplex BBCA starts on C60. Multiplex 1 C66 closes. Mux A moves from C55 to C66.
On Wednesday 7th March 2012 if you use the
Bevendean
(noon),
Bovington
(noon),
Brading
(noon),
Brighstone
(noon), Brighton (Central) (noon),
Canford Heath
(2pm),
Cheselbourne
(noon),
Coldean
(3pm),
Corfe Castle
(9am),
Donhead
(6am),
Findon
(9am),
Hangleton
(noon),
Horndean
(9am),
Luccombe
(9am),
Lulworth
(noon),
Luscombe Valley
(9am),
Millbrook
(noon),
Ovingdean
(3pm),
Patcham
(9am),
Piddletrenthide
(3pm), Poole (6am),
Portslade
(9am),
Poulner
(11am),
Saltdean
(9am),
Shrewton
(9am),
Singleton
(6am),
Sutton Row
(9am),
Till Valley
(noon),
Ventnor
(9am),
Westbourne
(noon),
Winterbourne Steepleton
(9am), Winterbourne Stickland (9am)
relay
transmitters you will be able to receive the BBC Freeview
services
(with the exception of HD) for the first time, and you will no longer be able to view BBC TWO on analogue.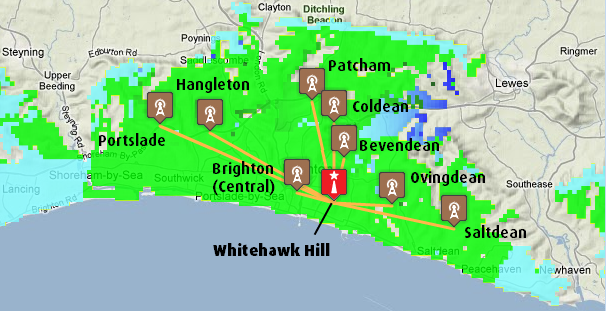 Remember, this is the last two weeks viewers in Brighton and Hove will be part of the BBC "South Today"
region
, as the transmitter will now move to the BBC "South East Today" region (as they are already on
Sky
and
Freesat
) - see
Brighton transmitters will be in BBC South East from March 2012
.
You MAY find that old equipment will no longer work - see
TVs and boxes that do not support the 8k-mode
Another common problem at switchover is the increase in
signal
will overload amplifiers and over-the-top
aerial
installations. If this is the case you will have to remove the
booster
or
amplifier
from the system, or perhaps fit an attenuator if you have no amplification. - see
Freeview signals: too much of a good thing is bad for you
.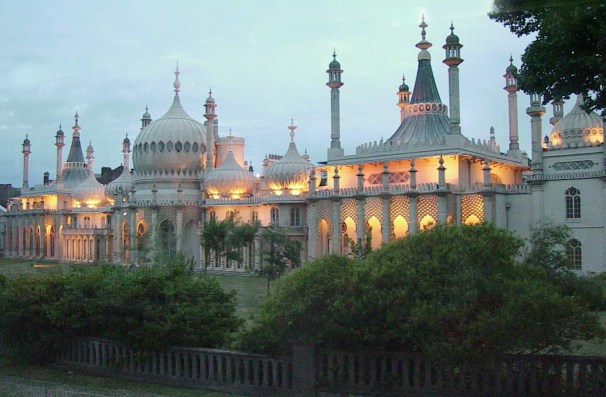 On
Wednesday 21th March 2012
will see the second stage of switchover, which provides the final Freeview configuration, including
Freeview HD
for all transmitters in this region.
On this date, you will need, once again, to do a "first time installation" as indicated above.
If you are over 75, you should already have been supplied new equipment by the
Switchover Help Scheme
.
Comments
Wednesday, 7 March 2012

Kay you have to do a re-scan but not until at least 6am !

Dave's 126 posts

Just a few photos to show that Whitehawk Hill is using C60 for PSB1 and C66 for MuxA.


Briantist's 38,844 posts

Found new BBC mux on Ch 24 ok - strangely enough the signal strength on my Humax is exactly the same as before switchover - 81% and quality the same at 100%. Have they actually upped the power and if so - strange that no change to my signal strength - checked at 6.00am this morning.

Tim h's 22 posts

Sorry - should have said - get service from Rowridge!

Tim h's 22 posts

Hi I have done the retune and get good reception on a lot of channels but no itv 1 2 ect any help would be good? thank you

fred's 6 posts

Hi Fred

I had the same problem - do a manual tune on channel 32 (I think!?) and this may well pick up that particular mux for you.

Tim h's 22 posts

ok will try that tim but i just wondered if itv was going to be changed on the 21st march the date of the final re tune?ny info any 1? thanks fred

fred's 6 posts

fred: Se the Freeview on Whitehawk Hill TV transmitter | ukfree.tv - independent free digital TV advice page

"Wednesday 21st March 2012

BBC One analogue C57 closes. ITV-1 analogue C63 closes. Channel 4 analogue C53 closes. Channel 5 analogue C35 closes. Multiplex 2 C50 closes. Multiplex A C55 closes. Multiplex B C48 closes. Multiplex C C58 closes. Multiplex D C61 closes.

Multiplex SDN starts on C57. Multiplex ArqA starts on C56. Multiplex ArqB starts on C48. Multiplex D3+4 starts on C53. Multiplex Freeview HD (BBCB) starts on C51. "

Briantist's 38,844 posts

Tim h: Multiplex 2 is broadcast on C50 from Whitehawk Hill.

Briantist's 38,844 posts

Tim h: The change from 16QAM mode to 64QAM mode will count against the increase in power level from 20kW to 200kW.

You actually don't want any more signal strength - see Freeview signals: too much of a good thing is bad for you | ukfree.tv - independent free digital TV advice

Briantist's 38,844 posts
Select more comments
Your comment please