Been missing the Digital Switchover? Good news! There is going to be another
I must admit that I have been occasionally called to task to when I posted here on UK Free TV some possible changes to the Freeview transmission frequencies for around 2018. It does rather seem as if this warning was as accurate as it was well intentioned.
The "700" band.
Going back to the May 2012, I introduced Ofcom channel bingo II - introducing the bands.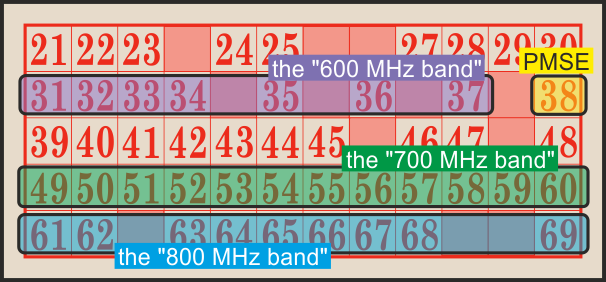 At DSO the "800MHz" band, the old C61-C69 was given over to 4G services. At the moment, the "600MHz" band is used for the interim Freeview HD channels, and the "700MHz" for Freeview.
What the plans now approved by Ofcom commit to, is to removing the "700MHz" band – C49 to C60 and auctioning it to the 4G mobile broadband networks.
"These international developments are important because mobile spectrum needs to be used internationally to provide the economies of scale required to ensure a wide availability of devices at reasonable cost." … "EU states to … make the 700 MHz band available for mobile data use by no later than 2022" [1]
What does this mean for the viewer?
In the end, it should mean more-or-less the same Freeview service for most homes.
One thing is certain, and that is Ofcom "will not seek to ensure the continued delivery of the interim multiplex", so that will be the end of the extra Freeview HD services.
Because there will be a need to provide the same TV services in less broadcast frequencies there may be some knock-on effects. This MAY include moving the COM multiplexes to DVB-T2 transmission, so they will only work with Freeview HD boxes.
The change in frequencies may also need some homes to change their aerials (to wideband, if they don't have them) and very tiny number may need the "4G" filters.
Timescales
Looking at the Arqiva indicative timescales [2]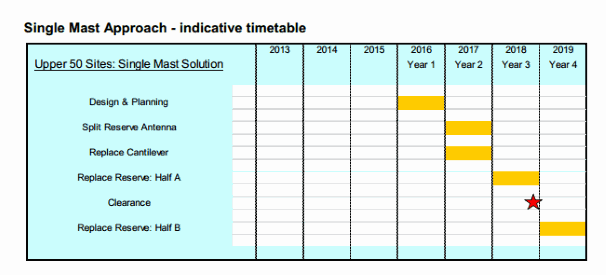 It would seem that switchover events might take place in 2018.
Will this be the last change?
"The report also recommended that the 470 MHz -694 MHz band continue to be reserved for terrestrial broadcasting and PMSE until 2030" so it could be that there will be more changes in the coming decade.
What does this mean for the broadcasters?
The following diagram shows how the main Freeview masts operate.
The preferred plan that Ofcom has indicated is the Arqiva "Reduced Scope' Solution (RSS) plan.
This will mean that some reduction in DTT power output levels will be acceptable whilst the services are moved to the reserve (in the sense of a "backup") outputs. Whilst the reserve is in use the primary systems will be change to operate on the new frequency allocations.
Once the national "clearance event" happens, the backup transmitters will be change to work on the new frequencies. The obvious issue here is that the DTT system will be running without a backup – at least from some masts for some time.
Keeping the backup systems in place would require the provision of up to 21 temporary masts. Given that the whole network of transmitters is still less than a decade old, it might be reasonable to think that the system will operate OK without the backups.
[1] Ofcom - Decision to make the 700 MHz band available for mobile data – statement - 19 November 2014
[2] 700MHz High Level Estimate Single Hop & PSB MFN/COM SFN Plans - Arqiva Limited, May 2014
Comments
Thursday, 20 November 2014

Ian: Yes, if you look at the Ofcom document it does lay out the costs and sets them against the benfits for the UK as a whole.

"We estimate that the economic cost of change will be between £550m - 660m. The full cash costs of the change (excluding opportunity costs and the value of time to retune TVs) amount to £430m-520m (2014 real terms)."

"We estimate the change will deliver benefits to the UK of at least £900m-1.3bn"

http://stakeholders.ofcom….pdf

Briantist's 38,844 posts

Ian: I agree that there will be costs, and even some landfill (and the costs v benefits figures that Ofcom quote are somewhat general, to say the least), but I suspect that costs and problems may be less than feared.

If the switchover events are in 2018, you have to think what people will actually be watching with at that point. Ofcom assume that there will be a cost for retuning, but recognise that in reality, most TV's and PVR's auto retune, and although there will be people who do need to pay someone to retune their TV for them, those are relatively few. The allocated £20-30m as an 'opportunity cost' for the time spent retuning - rather than a real cost.

Older aerials might need replacing. But again, just how many (105,000?) is a bit of a guess. If your aerial falls down in a storm next year, then it will be replaced anyway. There will be a natural watage of older aerials in any case.

Probably the biggest possible cost will be equipment. If T2 tuners are to become standard, then obviously equipment without them becomes obsolete. However, looking at the general replacement rate of main room TV's, which seems to be on a 5-8 year cycle, judging by customer feedback, within 4 years many of the existing DVB-T tuners will be replaced or supplemented.

Remember that T2 tuners started to appear in 2011, so there has already been 3 years of them being fitted as standard to many TV's and the majority of PVR's since that date. I wish all TV's were fitted with T2 tuners, but the manufacturers and retails who sell the DVB-T equiped models do it because they are a cheaper.

However, a T2 receiver with Iplayer is around £60, so as long as you can plug your TV via HDMI (or even scart), thats not a huge problem. In fact many have already purchased a T2 equiped PVR, thus killing two birds with one stone, and that will continue. In fact its the PVR's which will cause the biggest problems, because it will be much easier to replace a DVB equiped one with a T2 box, rather than try to modify it. This was pretty much the same thing that happened with VCR's during digital switchover - the TV's were easy, the recorders were difficult. Reember though that PVR's tend to be replaced far more often than TV's - if only because their storage capacity seems pretty small fairly quickly.

There will be costs, and I'd be nervous if I was in charge of Freeview, at least in the long term. But I suspect that much of the money that needs to be spent would be spent anyway. Still a pain though....

MikeB's 2,579 posts

I strongly suspect that the figures Ofcom have dreamt up of how many aerials will need to be replaced is a gross underestimate. Those with Group C/D aerials will need to replace them and the current cost is often around £150 for the work to be done professionally. There are many main transmitters that radiate in the C/D group so almost all the viewers in those areas will need new aerials as few will have selected a log-periodiic design.
Plus yet again the views of normal viewers are being ignored and they are expected to retune again (not all TVs or boxes auto-tune) all for the benefit of the mobile phone companies with no benefit for the viewer.

MikeP's 3,056 posts

I hate myself for noticing this, but I hope those people itching for the BBC to go subscription might use the "upgrade to DVB-T2" excuse to push subscription boxes onto everyone as part of the process.

Payview and subscription BBC might be as close as 2018!

Briantist's 38,844 posts
Friday, 21 November 2014

Payview and subscription BBC might be as close as 2018!

Is this not NOW called a TV licence?

Geoff's 2 posts

Brianist: You might be right, but I dont think the people pushing for a BBC on subscription are that clever - you've laid out the financial, technical and practical problems very well already, so I suspect their thinking is closer to 'then a miracle occurs', than anything else. As the line goes in 'Sneakers', 'Organised crime?...Hah. Don't kid yourself. It's not that organised'.

If the Tories do win the the election next year, it might well happen - if they have a majority, they can push through what they like. However, I suspect the real crunch point is going to be convincing the readership of the Daily Mail - thats the pressure point.

The DM might be the house journal of cognative dissonence (and the the Dunning Kruger effect, come to that), but even its going to have a problem dealing with the contradictions its faces. Never mind that although the DM constantly runs stories dissing the Beeb, its readers quite like it, and they certainly have no love for the other channels (Michael Grade was 'pornographer in cheif' while at C4, and after Milly Dowler, Murdoch is hardly a hero).

The demographic is also conservative with a small 'C' and hates change and spending money on said change. Think of all those articles about how much cost and distruption just retuning after 4G would bring. Another retune is going to be more of the same. And having to buy another box (or boxes) is going to be much much worse.

The other thing of course is that they already will own (by and large) T2 tuners. No PVR will have been sold without one in for at least 6 years, and I can imagine the outrage of having to buy another box, exactly the same as the one you already have, but now its got something in it to allow you to pay for and watch the BBC. And you might have to do this for lots of boxes. They are going to love that.

Someone might say they can kill two birds with one stone, but it would be interesting just how many manufacturers are going to want to make a box for a market which might not bother.

Perhaps inertia, a certain level of Luddism and general unwillingness to spend money might be the BBC's friend! Of course, they could just make it into the UKS's PBS, so we will just see documentaries on cheese making...

MikeB's 2,579 posts

I read somewhere, Cannot remember ware, That Free-view was planned to be scrapped completely in the future as everyone would be using Internet and/or
Satellite, Wonder if that's what this 2030 date all about ?.

Paul's 6 posts

Remember all the OAP's been conned into buying "Digital Aerial" years back when most of them did not need them? Here we go again. Had a chancer coming round our street asking me if we needed a new digital aerial. Asked him what one of them was. After his bull pooh for 10 minutes told him I had 3 x 10 year old aerials in my attic and all my digital equipment was working fine thank you.

John Martin's 103 posts

I think that my view on this decision is that I'll vote for any party that promises to overrule Ofcom and cancel this plan, even if it means withdrawing from international agreements.

All these retunes are thoroughly annoying. They're usually not difficult to carry out but I think that most people are fed up with retunes and just want to settle down with what they already have.

If this does go ahead, I think that the mobile broadband providers and/or the government should pay ALL the costs of switchover for all consumers, regardless of how much they are.

If Ofcom were instead to sell off the 600MHz band and retain the 700MHz band, that might be an acceptable compromise. In the meantime, I would like to raise consumer awareness of this plan and start a campaign to get the decision overturned.

Charles Stuart's 159 posts
Saturday, 22 November 2014

I agree with Mr Stuart - It is very annoying, particularly for the the elderly & technophobes who can be very upset by disruption to their beloved TVs. Sadly in the end this about Money, Money & More Money, so it is going to happen, and I believe this is only the start of it.

Sometime in the next decade access to high speed internet is going to reach a critical mass and I predict that DTT is going to get pruned right back. I can see a situation where only a single mux remains for 'public safety' reasons.

James's 11 posts
Select more comments
Your comment please