Upgrade to transmitter coverage maps - now showing potential interference areas

Brian Butterworth published on UK Free TV
Now, on the maps the bright green areas shown where the signal from this transmitter is strong, dark green areas are poorer signals. Those parts shown in yellow may have interference on the same frequency from other masts.

The next change is that the frequency usage maps (such as C21 (474.0MHz) after switchover) show the polarity (the position the receiver aerial has to be in) by the use of a black triangle to show "vertical".




The transmitter pages now show overlaps - for example Sudbury (Suffolk, England) full-Freeview transmitter shows a large overlap area to the south.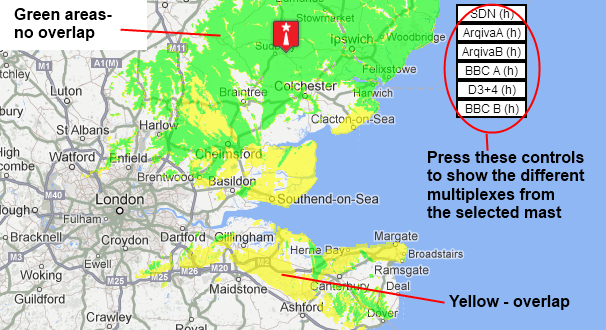 On transmitter site that broadcast in both horizontal and vertical, you can now see the difference that the selection of position makes (for example at Rowridge (Isle Of Wight, England) full-Freeview transmitter ):