Switchover starts in Hampshire, West Sussex coast plus Brighton and Hove

Brian Butterworth published on UK Free TV
This week sees the first stage of the digital television switchover for 721,393 homes in Hampshire and West Sussex plus the 118,500 homes in the city of Brighton and Hove.

From 6am Wednesday 7th March 2012, you must perform a "first time installation" retune (sometimes "Factory Reset" or "Shipping Condition") on your Freeview box or television set if you use the Rowridge, Salisbury or Whitehawk Hill full service Freeview transmitter.

This is because the old low power "multiplex 1" BBC service will be replaced by the high power BBCA multiplex on the old analogue BBC TWO frequency:


Rowridge (starts midnight, ends by 6am) - BBC TWO analogue closes on C24, Mux 1 closes on C34, BBCA starts on C24.
Salisbury (starts midnight, ends by 6am) - BBC TWO analogue closes on C63, ITV 1 analogue moves to C60 from C53, Mux 1 closes on C55, BBCA starts on C57.
Whitehawk Hill (starts midnight, ends by 6am) - BBC TWO analogue C60 closes. ITV 1 analogue swaps to C63 from C60. Multiplex BBCA starts on C60. Multiplex 1 C66 closes. Mux A moves from C55 to C66.
On Wednesday 7th March 2012 if you use the
Bevendean
(noon),
Bovington
(noon),
Brading
(noon),
Brighstone
(noon), Brighton (Central) (noon),
Canford Heath
(2pm),
Cheselbourne
(noon),
Coldean
(3pm),
Corfe Castle
(9am),
Donhead
(6am),
Findon
(9am),
Hangleton
(noon),
Horndean
(9am),
Luccombe
(9am),
Lulworth
(noon),
Luscombe Valley
(9am),
Millbrook
(noon),
Ovingdean
(3pm),
Patcham
(9am),
Piddletrenthide
(3pm), Poole (6am),
Portslade
(9am),
Poulner
(11am),
Saltdean
(9am),
Shrewton
(9am),
Singleton
(6am),
Sutton Row
(9am),
Till Valley
(noon),
Ventnor
(9am),
Westbourne
(noon),
Winterbourne Steepleton
(9am), Winterbourne Stickland (9am)
relay
transmitters you will be able to receive the BBC Freeview
services
(with the exception of HD) for the first time, and you will no longer be able to view BBC TWO on analogue.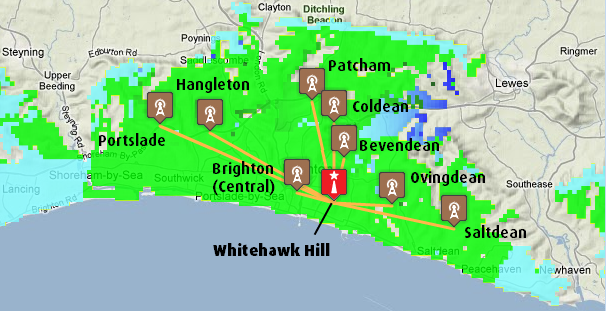 Remember, this is the last two weeks viewers in Brighton and Hove will be part of the BBC "South Today"
region
, as the transmitter will now move to the BBC "South East Today" region (as they are already on
Sky
and
Freesat
) - see
Brighton transmitters will be in BBC South East from March 2012
.
You MAY find that old equipment will no longer work - see
TVs and boxes that do not support the 8k-mode
Another common problem at switchover is the increase in
signal
will overload amplifiers and over-the-top
aerial
installations. If this is the case you will have to remove the
booster
or
amplifier
from the system, or perhaps fit an attenuator if you have no amplification. - see
Freeview signals: too much of a good thing is bad for you
.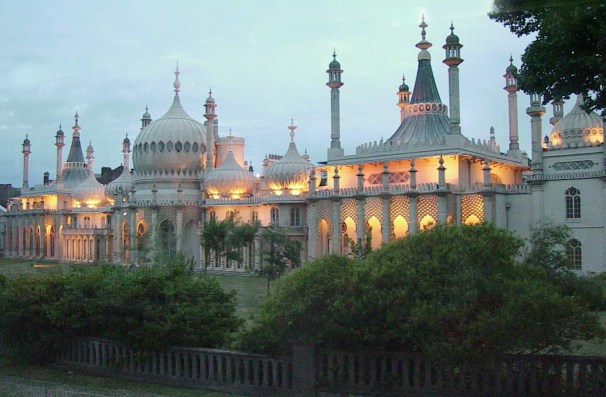 On
Wednesday 21th March 2012
will see the second stage of switchover, which provides the final Freeview configuration, including
Freeview HD
for all transmitters in this region.
On this date, you will need, once again, to do a "first time installation" as indicated above.
If you are over 75, you should already have been supplied new equipment by the
Switchover Help Scheme
.
Comments
Wednesday, 7 March 2012

Hi Brian i have a roof ariel retuned got good bbc 1 but a lot of the other channels are very blocky and still no itv read the page on the whitehawk hill info still a bit confused, any help please fred

fred's 6 posts

fred: The area you are located in isn't very good for reception from Whitehawk Hill unless the aerial is mounted very high up.

You should probably just wait for two weeks for the much stronger signals, if you can get the PSB1 multiplex then you are more-or-less guaranteed to get them all in a fortnight.

Briantist's 38,844 posts

Hi Brian i have now managed to retune itv to c 60 with good picture will i get digital itv on 21st march?thanks fred.

fred's 6 posts

Hi Brian what is PSB1 multiplex?thanks Fred.

fred's 6 posts

fred: If you got the PSB1 channels (BBC One, BBC TWO, BBC three, BBC FOUR etc) on Freeview today, you will get the rest of the services next week as they will all broadcast at the same high power level of 4kW, rather than the current mixture of .2kW, .4kW and 1kW.

Briantist's 38,844 posts

fred: PSB1 is the Freeview service that has

1 BBC One South East, 2 BBC Two England, 7 BBC Three, 9 BBC Four, 70 CBBC Channel, 71 CBeebies, 80 BBC News, 81 BBC Parliament, 105 BBC Red Button, 301 301, 700 BBC Radio 1, 701 BBC 1Xtra, 702 BBC Radio 2, 703 BBC Radio 3, 704 BBC Radio 4, 705 BBC Radio 5 Live, 706 BBC Radio 5 Live Sports Extra, 707 BBC 6 Music, 708 BBC Radio 4 Extra, 709 BBC Asian Network, 710 BBC World Service as a digital multiplex transmitted on frequency C60- (785.8MHz)

Briantist's 38,844 posts

Tim h, Briantist: Usually the signal strength displayed is raw power, and isn't adjusted for the mode. Tim could have previously had significant interference on C34, but if it was sufficient to equal the expected new level from Rowridge I'd have expected no service possible!

Antennas do typically have substantially more gain at higher frequencies than lower ones, but again, 10 dB is a lot. C24 is too high for it to be Short Reflector Syndrome (a particular problem where the reflector elements are too short to be effective at C21-C22).

I do hope Arqiva haven't managed to cock up in the way they did at Hannington a few weeks ago!

Mike Dimmick's 2,486 posts

HiBrian thanks for all your help,regards Fred.

fred's 6 posts

Mike D - yes it all seems too neat doesnt it? I was anticpating having far too much signal after last night's changes as 81% strength with 20kw prior to last night seemed a lot to start with. The fact that this reading has not changed AT ALL leads me to wonder if the power increase has occurred? Mind you I havent check since about 6.02 am so could this have been increased since?

Tim h's 22 posts

fred: Always happy to help. Please let me know how you get on on the 21th March.

Briantist's 38,844 posts
Select more comments
Your comment please